Art of the Genre: Owning a Time Machine
Art of the Genre: Owning a Time Machine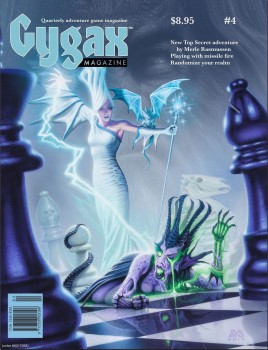 It's true, in a sense. You see, I work as the Art Director for Gygax Magazine, and as such I'm tasked with trying to recreate the artistic feel of Dragon Magazine circa 1984. So, I spend my days not only going over old art, but also trying my best to discover new talent that somehow reflects some of the best aspects of the OSR.
Certainly, there have been others that have tried this type of nostalgia-based marketing. Goodman Games comes to mind with their initial line of Dungeon Crawl Classics, and the same could be said for Rob Kuntz and his Pied Piper Press in the mid-2000s.
Still, it isn't as easy as it sounds. You can't simply plug in old artists and make everything perfect. Talents evolve, and in some cases erode, and working with established artists who have trademark styles sometimes limits your ability to direct them inside a product.  Egos must be taken into account, as well as their vision versus yours, and finally how a price point that satisfies everyone can be achieved.
It can be a position of highs and lows, and I've had some great successes as well as failures along the way, but never once did I say 'this just isn't worth it.'
Why?  Because I love the art.  I love the artists, and having gone so deep into their world, I understand all too well the struggles they face on a daily basis. Each time I get the opportunity to pick up a phone, call an artist, and offer them work is what gives my job meaning.
Gygax provides this incredible vehicle to do just that, and when you finally get to hold the magazine in your hands, feel it just like you did that Dragon Magazine when you were in your teens, you understand just how special it really is.
In that moment, it truly is a time machine, and for me, I've been given the chance to not only travel back to the artists who made gaming great, but also the designers. Spending time with Top Secret creator Merle Rasmussen was a spectacular event for Gygax #4, and not only that, but I got to have my name listed as a CIA director in the player map fold out, just like famed designers from the 1980s!  I got to work with David 'Diesel' LaForce on a map, just like he'd done countless times during his tenure at TSR.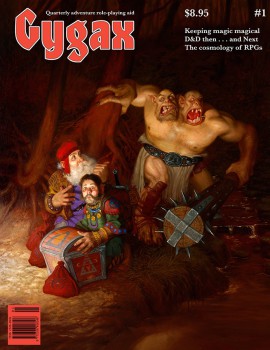 I've had the chance to work with James M. Ward on a Metamorphosis Alpha adventure, and with Ernie Gygax on a Hobby Shop Dungeon he'd created for the original AD&D. Even now, outside the realm of Gygax Magazine, I'm creating adventures with folks like Frank Mentzer and Luke Gygax. I get a chance to hear how Dragon Magazine was built from the original editor-in-chief himself, Tim Kask, or learn the detailed mechanics of D&D from Len Lakofka. I mean, almost every day some new gaming legend is consulting or pitching ideas, and that makes for a great workplace.
Couple this with the ability to foster new talents in illustration like Simon Adams, Michael Wilson, Travis Hanson, and Josh Godin, and I'm getting to see what the next generation of traditional illustrators will do if we are able to provide them the opportunity.
These new artists help bring such a fresh perspective to each issue. Each is driven in a different way, and all are still trying to make a name for themselves inside the industry. That hunger makes for incredible art, from Wilson's Jeff Dee-inspired comic style to Hanson's cartoony splendor that screams for fans to color his work, it is a great experience for all involved.
In some way, I feel a bit like David Sutherland III or Jim Roslof as they used their trained eye to help artists like Otus, Willingham, Trampier, Easley, Elmore, and Parkinson find their creative groove and define and industry.
So, if you've ever wondered what it would be like to go back, then I hope you'll join me with Gygax Magazine if you get the chance. I promise you won't be disappointed.
As always, thanks for reading AotG, and remember that we REALLY need your support with a pledge or share of my new OSR art inspired 5E module Kickstarter. Thank you in advance, and good gaming!