New Treasures: First-Person Singularities by Robert Silverberg
New Treasures: First-Person Singularities by Robert Silverberg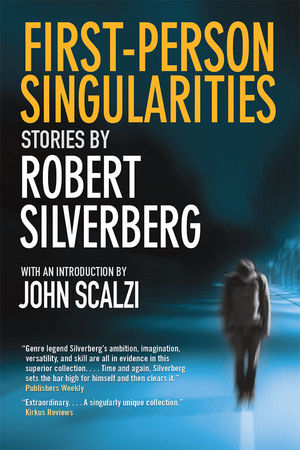 A new book by SF grandmaster Robert Silverberg is a cause for celebration. It took a while for the cake and balloons to arrive, but we're now ready to celebrate his collection First-Person Singularities. It gathers stories spanning the last six decades, all told in first person singular. Here's Kirkus Reviews.
The sheer diversity of storylines is nothing short of extraordinary. In "House of Bones," a time traveler is marooned more than 20,000 years in the past and is forced to assimilate into a tribe of nomadic cavemen. "Ishmael in Love" chronicles a bottle-nosed dolphin's attempt to woo a human researcher with whom he's fallen in love. The Nebula Award–winning "Passengers" tells the tale of a man living in a future where aliens have invaded Earth and can temporarily take possession of human minds and hijack their bodies. "Going Down Smooth" is told from the perspective of a computer, designed to help psychoanalyze troubled human patients, that finds itself slowly losing its sanity. "Caliban" chronicles a normal man's plight in a world where everyone looks like a model. But arguably the most memorable story is "The Reality Trip," about an alien spy — a beetle-ish creature living inside a humanlike body made of synthetic flesh — who must deal with an amorous woman who lives, as he does, in Manhattan's Chelsea Hotel and is bent on seeking an intimate relationship with him…. this book [is] a master class in first-person narrative for aspiring writers. Additionally, each story is preceded by a short introduction by Silverberg that offers invaluable insight into the cultural landscape, the publishing industry, and the author's personal life at the time of writing.

Decades after being originally published, most of these stories are still just as entertaining and powerful as they were when first released. A singularly unique collection.
The collection includes multiple awards winners and nominees, including the Hugo Award-nominated "Our Lady of the Sauropods," the Nebula Award-winning "Passengers," and the Locus Award-winning novella "The Secret Sharer."
Here's the complete Table of Contents.
The "I"s of Robert Silverberg, by John Scalzi
Foreword by Robert Silverberg
"Ishmael in Love" (Parsecs and Parables, 1970)
"Going Down Smooth" (Galaxy Magazine, August 1968)
"The Reality Trip" (If, May-June 1970)
"The Songs of Summer" (Science Fiction Stories, September 1956)
"The Martian Invasion Journals of Henry James" (Omni Online, May 1996)
"Push No More" (Strange Bedfellows, November 1972)
"House of Bones" (Terry's Universe, June 1988)
"Call Me Titan" (Asimov's Science Fiction, February 1997)
"Our Lady of the Sauropods" (Omni, September 1980) — Hugo and Locus Award nominee
"There Was an Old Woman" (Infinity Science Fiction, November 1958)
"The Dybbuk of Mazel Tov IV" (Wandering Stars, January 1974)
"Caliban" (Infinity Three, 1972)
"Passengers" (Orbit 4, 1968) – Hugo nominee, Nebula Award winner
"Now Plus N, Now Minus N" (Nova 2, 1972)
"The Iron Star" (The Universe, November 1987)
"The Science Fiction Hall of Fame" (Infinity Five, May 1973)
"The Secret Sharer" (Isaac Asimov's Science Fiction Magazine, September 1987) — Hugo and Nebula nominee, Locus Award winner
"To See the Invisible Man" (Worlds of Tomorrow, April 1963)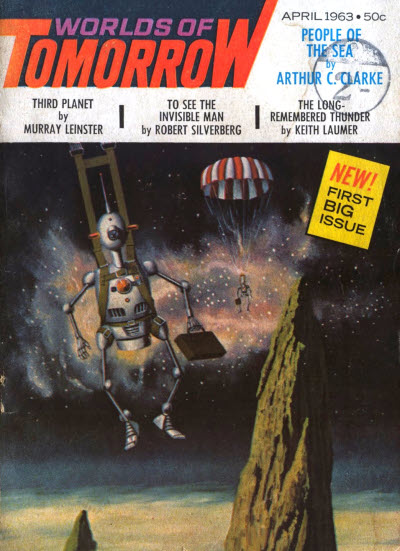 Worlds of Tomorrow April 1963, containing
Robert Silverberg's "To See the Invisible Man"
First-Person Singularities was published by Three Rooms Press on October 31, 2017. It is 384 pages, priced at $19.95 in paperback and $9.99 for the digital edition. I found it in io9's list of 51 New Science Fiction and Fantasy Books to Choose From in October.
See all of our recent New Treasures here.