R.A. Lafferty, the Past Master of Science Fiction
R.A. Lafferty, the Past Master of Science Fiction
R.A Lafferty is one of my absolute favorite classic SF writers. Though I've never read any of his novels.
Yeah, I know that sounds weird. But Lafferty is remembered today mostly for his brilliant short fiction, collected in priceless collections like Nine Hundred Grandmothers (1970), Strange Doings (1972), and Lafferty in Orbit (1991). And his novels… well, they're not so well remembered. There are a lot of theories about this. In his wonderful SF biography Past Masters (the title of which is an homage to Lafferty), Bud Webster quotes Mike Resnick, who was close to Lafferty:
There were a number of people… who thought he was the most brilliant short story writer in the field. But his novelettes weren't as good, and except for Space Chanty (sic) his novellas were unexceptional, and his novels were for the most part mediocre. I blame his drinking for this. If he could grind out a story in one or two sittings, he could be brilliant. But if a novel took him 50 writing sessions, you get the feeling that each day he had to refresh his memory of what the hell he wanted to do, how he wanted to say it, etc.
Not all of Lafferty's novels have a poor rep. His first, Past Master (1968), was nominated for both the Hugo and Nebula, and today has become one of the most collectible SF paperbacks ever published by Ace Books, with good-condition copies commanding $50-85 and up on eBay.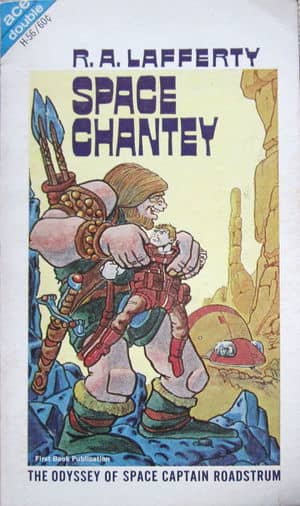 [Click the images to embiggen.]
Here's Bud again, from Past Masters.
Of his novel-length works, the most cohesive is probably Past Master (Ace 1968), the fifth of Terry Carr's Science Fiction Specials and Lafferty's first novel. Something of an stfnal roman à clef, it features the historical Sir Thomas More transported to the planet Astrobe a thousand years after the year of his death… Astrobe, once a utopia, is declining so irrevocably that it may mean the end of the human race. Not a good thing, they realize — hence the use of a time machine to bring in the Boss. Well, it seemed to be a good idea at the time, but they didn't anticipate the fact that he is a sixteenth-century dude with all the concomitant limitations, not to mention a mind very much his own.

Honest mistake, really. After all, he did coin the word "utopia." See, they figured he'd fix everything up and be all gosh-wow about being in the future, and they could handle him. Yeah, not so much — this is, after all, Sir Thomas More we're talking about here… it doesn't hurt that this isn't the Lord Chancellor's first experience with time travelers, and he takes it all in stride. He finds allies — not all of them human — and enemies too; ones who are prepared to off themselves and take the Human Race with them.
As intriguing as that sounds, it's hardly the stuff of best-selling (or even decent-selling science fiction), today or in 1968. And indeed, while Lafferty's work had many strong traits, commercial appeal wasn't one of them.
After publishing about half a dozen novels with mainstream houses like Ace and Berkley, Lafferty's sales sank to the point where none of the major publishers would touch him. Here's Bud again.
In the late 1970s it was all too common to see Lafferty's hardcover collections, published earlier in the decade by Scribner, sitting in piles on chain store remainder tables and selling for $1.99… Lafferty's career never recovered. Of his sixteen novel-length books, half were published in the decades 1968-77. The other eight were spread out over almost twenty years, and only one — 1983's Annals of Klepsis — was published by a major house. His last novel was Sinbad: The 13th Voyage (Broken Mirrors 1989) and his last short story, "The Emperor's Shoestrings," appeared in a 1997 anthology published by a gaming company… Mike Resnick had this to say about a visit he made to Lafferty's digs in the mid-1980s:

When I visited his house down in Oklahoma, I opened the guest closet to hang up my coat — and saw a 3-foot-high pile of manuscripts. He told me they were his unsold books, he had just turned 70, and he wasn't writing another word until Virginia (Kidd, his agent) sold all of these. She found a little press up in Minnesota, but she never did sell them all. She used to cry on my shoulder that she and I and four dozen others thought he was one of the greatest short story writers alive . . . but she couldn't find 10,000 people to buy his paperbacks or even 500 to buy his signed, numbered hardcovers.

Editor and anthologist Jonathan Strahan agrees, telling me "There's certainly a LOT of unpublished work. About 16 novels and something like 80 short stories."

I would very much like to think that, once the Lafferty estate is settled and a new agent found to represent it, many of the unpublished stories and novels will be made available to an eager (if unfairly small) readership.
Read Bud's complete entry on Lafferty at Eric Flint's Grantville Gazette, or you can buy a copy of Past Masters (which covers some two dozen classic SF writers, including Clifford D. Simak, Leigh Brackett, Fredric Brown, Murray Leinster, Stanley Weinbaum, and many others) at Amazon, or the Merry Blacksmith website. It's a great read for anyone who enjoys SF and fannish gossip.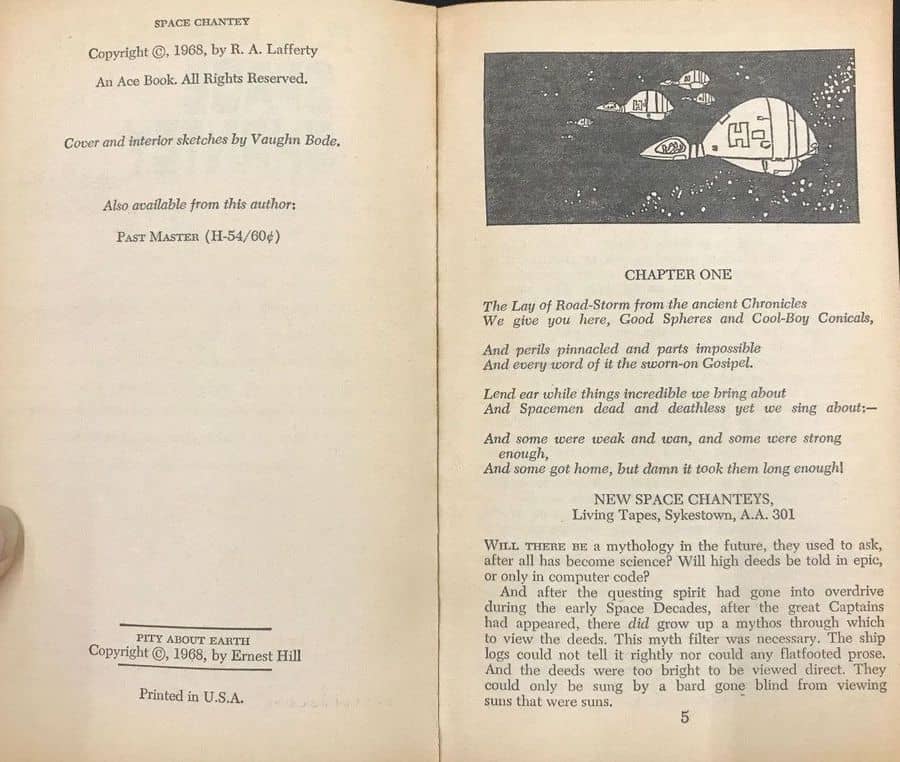 Interior and first page of Space Chantey (Ace, 1968)
Bud did admit that, "As a used-book seller, I can say that there is still a readership for the work of R. A. Lafferty," and that's even more true today than when he wrote it in 2012. In fact, it's hard to find any of Lafferty's books, even his mass market paperbacks, for sale at typical vintage paperback prices.
Lafferty's unpopular mass market paperbacks, which people avoided in droves in the 70s and 80s, today routinely command prices in excess of Robert A. Heinlein, H.P Lovecraft, and even Philip K. Dick, one of the most collectible science fiction writers of all time. Past Master is the most expensive, but copies of The Devil is Dead (1971) and Nine Hundred Grandmothers (1970) routinely list at $25 and up.
Why is that? And why did this spike in price occur relatively recently?
I don't know, not really. I've asked fellow collectors, and I haven't heard any compelling explanations, But I have a few theories.
First, Lafferty's books are scarce. The hardcovers have always been scarce, but in the past few years his mass market paperback editions have become harder to find, and that scarcity is driving up prices.
But it's not the primary driver. The primary driver is a sudden resurgence of interest in Lafferty, and I think that's directly linked to the sale of his estate (to the Locus Foundation), and the subsequent release of the first four volumes of Lafferty's The Collected Short Fiction from Centipede Press.
Although these books are priced out of reach of casual readers (and frugal collectors, such as myself), they have proven successful in the market, and they've brought awareness of Lafferty to a whole new generation. It's those folks who, before they plunk down $45 for a limited edition hardcover, will try a battered paperback for $15-20. Or at least, bid against me when I'm trying to get one. It's annoying but, hey, I get where they're coming from.
So I'm grateful to Centipede. Not just for finally bringing R.A. Lafferty back into print in the format he deserves, but for bringing some much-needed attention to a neglected master. Check out the beautiful Centipede editions of Lafferty's fiction here.
Before I close, I'll leave you with one final quote from Bud, on just what was so magical about R.A. Lafferty.
Nobody ever wrote — or will ever write — quite like Lafferty… Lafferty wasn't a science fiction writer, regardless of the section of the bookstore in which his titles may have appeared; rather, he was a mad fantasist, a maker of mythologies, a Wizard of Oddities…

This wasn't science fiction as we usually think of it. No fancy hardware, high-concept technology or plot-points turning on an astrophysical dime here. Nor was it what Bradbury and Nelson Bond used to call "science fantasy," although it comes close in some ways. Lafferty's work stands apart — not necessarily above, but undeniably apart — from his colleagues. You can't even hold it in the same (metaphorical) hand without your fingers wanting to bend in strange directions they weren't designed for. He was sui generis, was Lafferty, and there were plenty of readers who scratched their heads and called his stories unfathomable, but oh, the mythological impact of those stories!
Our previous coverage of R.A. Lafferty includes:
R.A. Lafferty: An Attempt at an Appreciation by Matthew David Surridge
R.A. Lafferty Literary Estate For Sale
Nine Hundred Grandmothers
Annals of Klepsis
The Hilarity of the Strange: The Man Underneath: The Collected Short Fiction of R. A. Lafferty, Volume 3 by Steve Case
Enjoy these looks at science fiction Vintage Treasures? See more here.