Christmas for the Paperback Collector
Christmas for the Paperback Collector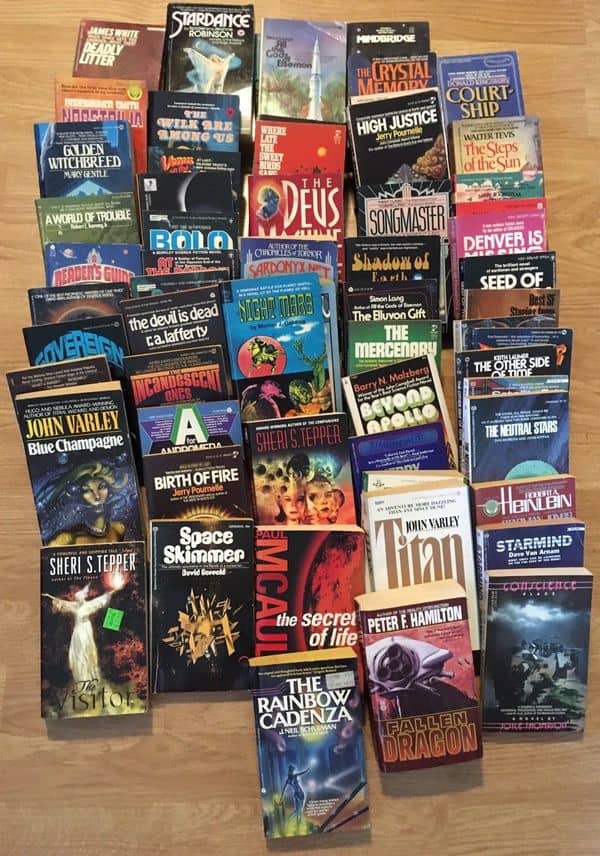 Back in October I was doing an innocent eBay search on R.A. Lafferty, and I stumbled on the lot of vintage science fiction paperbacks above. 65 titles from the 60s, 70s, and 80s, in what looked like pretty good shape, for the Buy-It-Now price of $18.
Well, this was a pickle. The way the books were laid out I couldn't even see them all, which was annoying. And the vast majority of the ones I could see, I had already.
On the other hand, 65 books, 18 bucks, that's…. what, like a quarter per book? At that price, it'd be well worth it just to upgrade my existing copies with ones in better shape. And there were a handful of tantalizing titles I didn't have, like The Rainbow Cadenza by J. Neil Schulman, The Crystal Memory by Stephen Leigh, Conscience Place by Joyce Thompson, and The Steps of the Sun by Walter Tevis. Plus that Lafferty paperback, The Devil is Dead. And y'know, it was true that I couldn't see all the covers, so who knew what treasures were lurking in all that jumble?
In the end, it was just too tempting. I pulled the trigger on the auction, shelled out the $18 (plus shipping), and waited impatiently to find out exactly what I'd bought.
[Click the images for bigger versions.]
The box arrived about a week later. What with one thing and another (like assorted publishing deadlines, and straightening up the house before my kids came home so it didn't look like Dad became a crazy book hoarder while they were off at college), I didn't get to open the package until two weeks ago, shortly after I started my Christmas break.
But the timing worked out. Opening the box was like Christmas come early. Here's what was inside.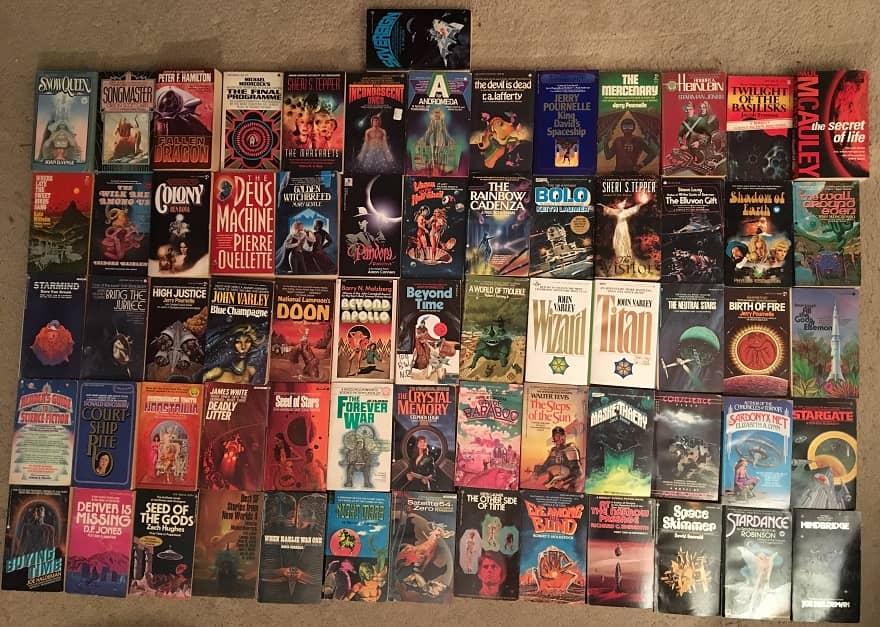 The first thing I noticed was that the books weren't in good shape…. they were in great shape. A few biffs and bent corners here and there, but the majority were virtually flawless. They looked like they'd never been read.
Now, finding sixty-five 30-50 year-old paperbacks in nearly flawless shape for about a quarter apiece is a pretty significant find. You can't even buy the same volume of firewood at that price.
But it was the wide range of titles that was really a delight. Spend any significant time on eBay looking at collections, and you'll quickly get tired of sifting through countless lots of battered paperback copies of David Eddings, Terry Brooks, and Anne McCaffrey for $3 per book. Look beyond the 80s and 90s bestsellers, however, and you'll find things are a little thinner on the ground. There are more diverse lots to be found, if you're diligent — or in my case, lucky.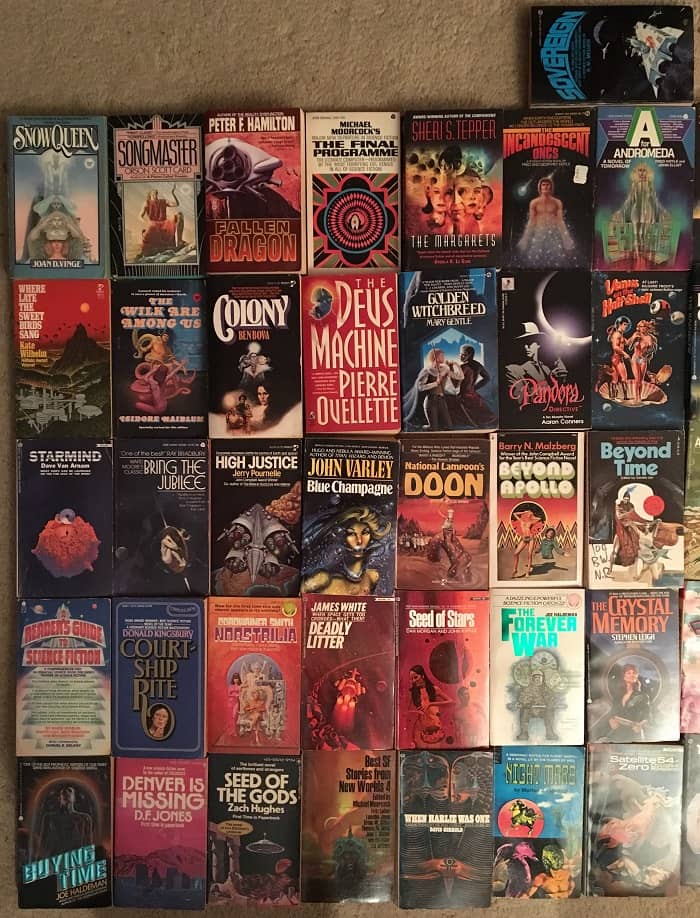 The set contained an assortment of titles I've already read, of course, including Snow Queen by Joan D. Vinge, Songmaster by Orson Scott Card, The Mercenary by Jerry Pournelle, and BOLO by Keith Laumer. In many cases however the copies were superior to mine, so I was happy to replace my worn copies with new ones.
There were also more than a few surprises, such as hard-to-find titles like Robert Holdstock's debut novel Eye Among the Blind (1979), Kate Wilhelm's Hugo Award-winning Where Late the Sweet Birds Sang (1977), Michael Moorcock's first Jerry Cornelius novel, The Final Programme (1968), Ward Moore's alternate history classic Bring the Jubilee (1972), Joan Slonczewski's post-apocalyptic tale The Wall Around Eden (1990), and many others.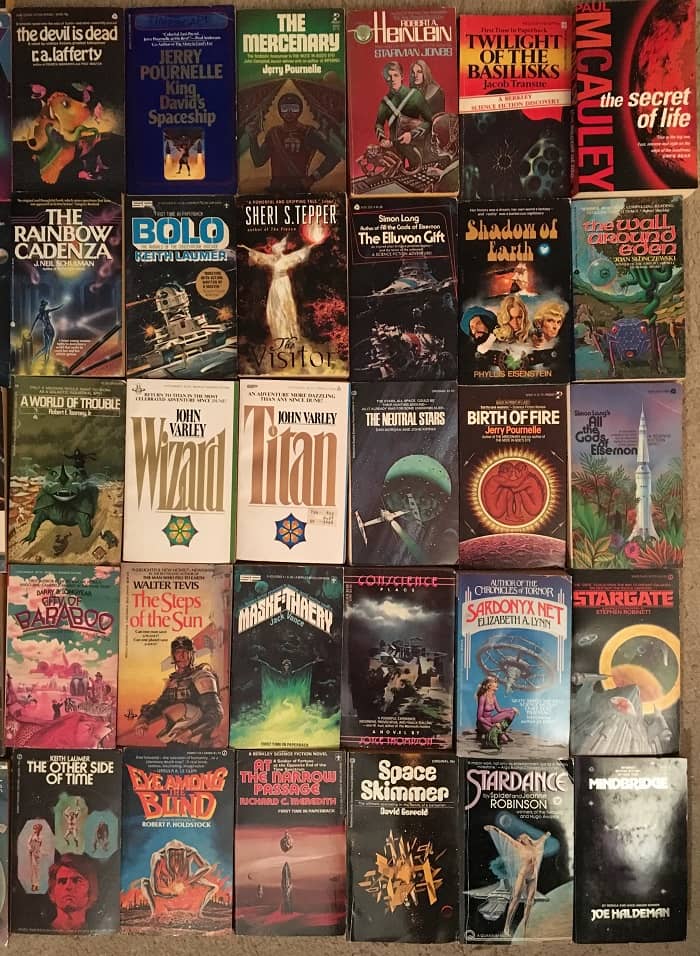 As much as I'd like to, I can't read all these books — or even most of them. 48 of them went into storage in my basement. But I pulled out 15 that I found especially appealing. They were added to the stack by my big green chair.
These books alone were entirely worth the $18 purchase price. With luck, I'll report on most of them here as Vintage Treasures over the next few months.
They are:
Golden Witchbreed, Mary Gentle (Signet, 1985)
The Devil is Dead, R.A. Lafferty (Avon, 1971) — Nebula nominee, Best Novel
BOLO, Keith Laumer (Berkley Medallion, 1977) — collection
The Rainbow Cadenza, J. Neil Schulman (New English Library, 1984) — Prometheus Award
Shadow of Earth, Phyllis Eisenstein (Dell, 1979)
Where Late the Sweet Birds Sang, Kate Wilhelm (Pocket, 1977) — Hugo & Locus Award winner, Nebula nominee
Bring the Jubilee, Ward Moore (Avon, 1972)
The Crystal Memory, Stephen Leigh (Avon, 1987)
Deadly Litter, James White (Ballantine Books, 1970) — collection
Courtship Rite, Donald Kingsbury (Timescape, 1983) — Locus Award (Best First Novel), Hugo nominee (Best Novel)
Best SF Stories From New Worlds 4, edited by Michael Moorcock (Berkley Medallion, 1971) — anthology
Maske: Thaery, Jack Vance (Berkley Medallion, 1977)
Eye Among the Blind, Robert P. Holdstock (Signet, 1979)
The Wall Around Eden, Joan Slonczewski (Avon, 1980)
Conscience Place, Joyce Thompson (Dell, 1986)
Well, after a bargain set of books like that, I didn't need to be hit over the head. I jumped back on eBay to see if the seller, palilogy, had any additional lots. By that time several other excellent sets had been snapped up, including two terrific vintage paperback collections of 50 titles each that both sold for $20.
But there were several others I managed to acquire quickly:
6 Terry Carr The Best Science Fiction Of The Year paperbacks — $7
23 Ace Science Fiction Novels (Leiber Saberhagen Vogt Spider Robinson Wollheim) — $17
17 Del Rey Science Fiction Novels and Best Of collections (Simak Niven Clarke Carr Burroughs) — $9
I wrote about the Terry Carr volumes here, and the Del Rey collection (including Carr's The Best Science Fiction Novellas of the Year #1) here.
If you're a paperback collector (or want to become a paperback collector), buying sets like this on online auction sites is a great place to start. Where else can you get 18-24 months of terrific reading for roughly the cost of two modern paperbacks? There are a lot of older collectors and used bookstores liquidating inventory online at bargain prices, but that won't always be the case. Do yourself a favor and see what's available. I think you'll like what you find.
See all our recent Vintage Treasures here.