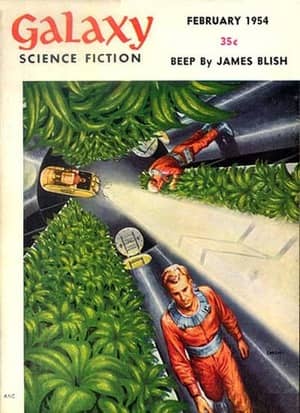 The cover for the February, 1954 issue is titled "Spaceship Hydroponics Room" by Ed Emshwiller. We're growing some hydroponic tomatoes at home, so the future is now!
"Beep" by James Blish — The Dirac communicator allows instantaneous communication between two devices, regardless of their distance. This gives an immense military advantage to those in the galaxy who possess it. But a shrewd reporter named Dana Lje uncovers something of much greater importance, hidden within a beep that precedes each message. And she sets her own terms for revealing her findings.
This story felt more like a science article expanded into a narrative, where characters are talking about the theoretical science. It didn't feel much like a story to me. I found the science intriguing enough, but it makes me wonder if a concise article on the subject would have had the same effect.
"The Boys From Vespis" by Arthur Sellings — The Vespians arrive on Earth for their own purposes, and they're all extremely attractive men. Herbert and other local guys can't get any attention anymore because of the recent competition, and he's had enough. He goes straight to the leader of the Vespians to demand that something be done.
It's a pretty short tale, and it earned a light laugh from me toward the end. Arthur Sellings is a pseudonym for Arthur Gordon Ley, a British author and scientist. He had six novels and many short stories published. Unfortunately, he died of a heart attack at age 47 in 1968.
"Pet Farm" by Roger Dee — A three-man team explores the planet Falak — a small, arid planet that doesn't rotate. Their job is to look for survivors from the war with the Hymenops — an insect race that attacked humans 200 years ago. The humans they find are all in their mid-twenties or younger and unable to communicate effectively in English. While there are a myriad of explanations for the absence of older humans, they hope to find the cause so that the planet can be recolonized in the future.
There's a good, mysterious plot that unveils nicely. This story is part of his series that follows the crew of the Marco Four. I reviewed a previous story titled "Wailing Wall" that appeared in the July, 1952 issue.
---