Birthday Reviews: Larry Niven's "Convergent Series"
Birthday Reviews: Larry Niven's "Convergent Series"
Cover by Jack Gaughan
Larry Niven was born on April 30, 1938.
Niven won his first Hugo for the short story "Neutron Star." His novel Ringworld received the Hugo and Nebula Award as well as a Seiun Award and Ditmar Award. He went on to win three additional Hugo Awards for the short stories "Inconstant Moon," and "The Hole Man" and for his novelette "The Borerland of Sol." Niven won a second Ditmar Award for Protector and additional Seiun Awards for his short stories "Inconstant Moon" and "A Relic of Empire." Footfall, written in collaboration with Jerry Pournelle, received a Seiun Award and Fallen Angels, written with Pournelle and Michael Flynn, received both a Seiun and a Prometheus Award.
Niven has received the Forry Award from LASFS and the Skylark Award from Boskone. Niven was the Author Guest of Honor at ConFrancisco, the 1993 Worldcon. In 2005 he received the Robert A. Heinlein Award from the Heinlein Society and the following year received a Writers and Illustrators of the Future Lifetime Achievement Award. In 2015, SFWA inducted Niven as a Grand Master.
In addition to his frequent collaborator Jerry Pournelle, Niven has worked with Steven Barnes, Michael Flynn, Edward Lerner, Gregory Benford, Dian Girard, David Gerrold, Brenda Cooper, and Matthew Joseph Harrington. He has also allowed other authors to write in the Known Universe series in the Man-Kzin Wars anthologies.
"Convergent Series" was originally published as "The Long Night" in The Magazine of Fantasy and Science Fiction in the March 1967 issue, edited by Edward L. Ferman. Niven included it in his collections The Shape of Space, Inconstant Moon, Convergent Series, and N-Space. Rudy Rucker used the story in Mathenauts: Tales of Mathematical Wonder. It has also been translated into French for issue 233 of Fiction in 1973 and also for a German collection of Niven's works, De Stranden van Sirius Vier.
While Larry Niven is best known for his science fiction stories, particularly the ones set in his extensive Known Universe series, he has also written fantasy as well as edited fantasy anthologies. "Convergent Series" is a deal with the devil, or rather demon, fantasy story, although its solution is informed by mathematical concepts.
Niven's protagonist is working on a thesis about magic in college and gets the idea that what he really needs to complete his project is the experience of summing an actual demon. He does so and finds that demon summoning comes with nothing if not a whole set of rules, all of which end with him having his soul dragged down to Hell.
Between being given the challenge and figuring out the resolution, Niven's character seems to wander around aimlessly, padding out the story rather than providing any real information to the reader. In the end, his solution is elegant, playing on the concept presented in the current title of the story, "Convergent Series," which is much more descriptive and apt than its original title of "The Long Night," which can also apply. The story also presents an interesting application of Zeno's Paradox.
Reprint reviewed in the collection N-Space, by Larry Niven, Tor Books, 1990.
---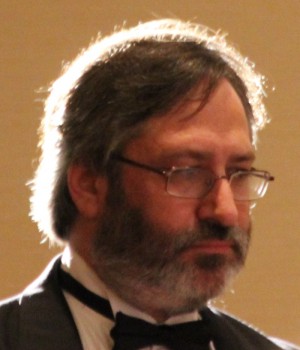 Steven H Silver is a sixteen-time Hugo Award nominee and was the publisher of the Hugo-nominated fanzine Argentus as well as the editor and publisher of ISFiC Press for 8 years. He has also edited books for DAW and NESFA Press. He began publishing short fiction in 2008 and his most recently published story is "Doing Business at Hodputt's Emporium" in Galaxy's Edge. Steven has chaired the first Midwest Construction, Windycon three times, and the SFWA Nebula Conference 5 times, as well as serving as the Event Coordinator for SFWA. He was programming chair for Chicon 2000 and Vice Chair of Chicon 7. He has been the news editor for SF Site since 2002.