Future Treasures: The Poppy War by R. F Kuang
Future Treasures: The Poppy War by R. F Kuang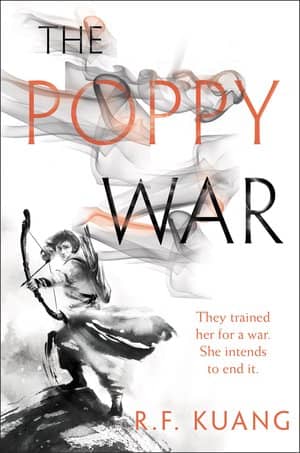 The Barnes & Noble Sci-Fi & Fantasy Blog is calling R.F. Kuang's The Poppy War "the Buzziest Fantasy Debut of 2018."
Last year, Harper Voyager introduced us to two exciting new voices in fantasy, Nicky Drayden (The Prey of Gods) and S.A. Chakraborty (City of Brass), so when David Pomerico, the imprint's editorial director, R.F. Kuang, whose debut The Poppy War Harper Voyager will publish in May, "an incredible new talent in the speculative fiction industry," we've got reason to trust his judgement (and track record). Certainly the book sounds like just the thing — a richly detailed epic born out of 20th century Chinese history, with an adult sensibility and a narrative hook that gives it the addictive appeal of the best young adult literature.

The official summary for this first-in-a-trilogy novel makes a compelling case… Pomerico, who acquired the book after a heated auction on what turned out to be the author's 20th birthday, promises it blends military fantasy and a coming-of-age story, combining the author's "cultural authenticity with personal creativity at a time when both qualities are very much demanded by readers."
Hey, I'm as big a fan of writing prodigies as the next guy. But is a fat 544-page fantasy written by a teenager really what I'm looking for? Especially one that's the start of a trilogy?
Well, maybe I'm just a grumpy old man. Certainly there's been no shortage of praise from people less grumpy than I. Kameron Hurley calls it, "A blistering, powerful epic of war and revenge that will captivate you to the bitter end." And Publishers Weekly praises it as "An ambitious fantasy reimagining of Asian history populated by martial artists, philosopher-generals, and gods… a strong and dramatic launch to Kuang's career."
You can decide for yourself when the book arrives in hardcover from Harper Voyager next week. Here's the description.
When Rin aced the Keju — the Empire-wide test to find the most talented youth to learn at the Academies — it was a shock to everyone: to the test officials, who couldn't believe a war orphan from Rooster Province could pass without cheating; to Rin's guardians, who believed they'd finally be able to marry her off and further their criminal enterprise; and to Rin herself, who realized she was finally free of the servitude and despair that had made up her daily existence. That she got into Sinegard — the most elite military school in Nikan — was even more surprising.

But surprises aren't always good.

Because being a dark-skinned peasant girl from the south is not an easy thing at Sinegard. Targeted from the outset by rival classmates for her color, poverty, and gender, Rin discovers she possesses a lethal, unearthly power — an aptitude for the nearly-mythical art of shamanism. Exploring the depths of her gift with the help of a seemingly insane teacher and psychoactive substances, Rin learns that gods long thought dead are very much alive — and that mastering control over those powers could mean more than just surviving school.

For while the Nikara Empire is at peace, the Federation of Mugen still lurks across a narrow sea. The militarily advanced Federation occupied Nikan for decades after the First Poppy War, and only barely lost the continent in the Second. And while most of the people are complacent to go about their lives, a few are aware that a Third Poppy War is just a spark away…

Rin's shamanic powers may be the only way to save her people. But as she finds out more about the god that has chosen her, the vengeful Phoenix, she fears that winning the war may cost her humanity… and that it may already be too late.
The Poppy War will be published by Harper Voyager on May 1, 2018. It is 544 pages, priced at $26.99 in hardcover and $12.99 for the digital version. The cover is by Jung Shan Chang. Read the first chapter here.
See all of our recent coverage of the best in upcoming fantasy here.