Future Treasures: Warhammer 40k: The Magos by Dan Abnett
Future Treasures: Warhammer 40k: The Magos by Dan Abnett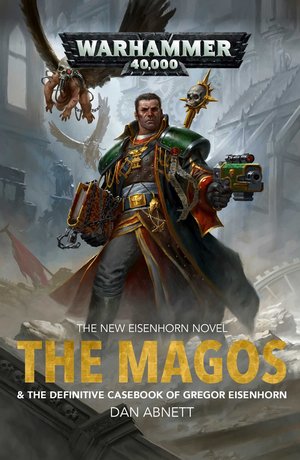 Three years ago, as I was commuting three hours a day to a job I hated, I found a way to add a little joy to my tedious morning drive. I started listening to the Warhammer Audio Books produced by Heavy Entertainment for Black Library.
And man, what a delight they were. Not just readings, these were full-cast audio dramas, with wonderfully produced sound effects and professional voice actors like Toby Longworth, Gareth Armstrong, Jonathan Keeble, and many others. I'd pull into the parking lot with the sound of ricocheting bolter fire and space marine battle cries echoing in my ear, and it made getting out of the car and starting the long walk into work a little easier.
I enjoyed virtually all of those action-packed audio dramas, but I think my favorite was Dan Abnett's Thorn and Talon: From the Case Files of Eisenhorn and Ravenor, an anthology of tales of the dedicated Imperial Inquisitor Eisenhorn and his apprentice Ravenor, as they came up again Chaos plots, strange warp artifacts, and more dangerous things.
That was my introduction to the tales of Inquisitor Eisenhorn. Although truthfully, if I'd just listened to my friends Howard Andrew Jones and John DeNardo, I could have saved myself a lot of time. Way back in 2009 Howard raved about Abnett's Eisenhorn omnibus, a fat volume collecting all three novels of the Eisenhorn trilogy and a handful of shorter works:
Dan Abnett wasn't satisfied with creating a fabulous lead character in an action-packed space opera; he sent him to fantastic places and provides a series of detective/investigative stories full of logical turns, surprises, and plenty of action.
And in his 2016 article 'In Defense of Media Tie-Ins," John wrote:
One of the best set of books I've ever read — in any genre — was the Eisenhorn trilogy by Dan Abnett. The books are set in the richly-imagined Warhammer 40K universe… Abnett is a one of the most skilled master storytellers you've never heard of. This is the series that I point to when anyone is quick to dismiss tie-in fiction… I don't play the game, but that didn't stop me from losing sleep because I couldn't stop turning page after action-packed page, or cheering when a bad guy finally got his comeuppance.
The long-awaited fourth book in the Eisenhorn series finally arrives next month. The Magos, a fat 720-page volume, collects a dozen Eisenhorn short stories and a brand new novel. Here's the description.
[Click the images for bigger versions.]
Inquisitor Eisenhorn returns in a stunning new novel that pits him against his oldest foe, forcing him to finally confront the growing darkness within his own soul.

Inquisitor Gregor Eisenhorn has spent his life stalking the darkest and most dangerous corners of the galaxy in pursuit of heresy and Chaos, but how long can a man walk that path without succumbing to the lure of the warp? Pursuing heretics in the remote worlds of the Imperium, Eisenhorn must confront the truth about himself. Is he still a champion of the Throne? Or has he been seduced by the very evil that he hunts? The Magos is the brand new, full-length fourth novel in the hugely popular Eisenhorn series. This paperback edition also includes the definitive casebook of Gregor Eisenhorn, collecting together all twelve of Dan Abnett's Inquisition short stories, several of which have never been in print before. These additional stories have been compiled by the author to act as an essential prologue to this long-awaited new novel, while also serving as an indispensable companion to the original Eisenhorn trilogy.
Dan Abnett is the author of several Horus Heresy novels, including Horus Rising, The Unremembered Empire, and The New York Times bestsellers Know No Fear and Prospero Burns. His other work for Black Library includes the Gaunt's Ghosts series, the Eisenhorn and Ravenor trilogies, and I Am Slaughter, the first novel in the new Beast Arises series.
The Magos will be published by Games Workshop/Black Library on March 6, 2018. It is 720 pages, priced at $17 in trade paperback.
Our previous coverage of Dan Abnett's Black Library volumes includes:
Dan Abnett's Horus Rising on Audio CD
A Thousand Sons and Prospero Burns on Unabridged Audio
In the Trenches: Gaunt's Ghosts: Straight Silver by Sean Stiennon
Tanith Airborne: Gaunt's Ghosts: The Guns of Tanith by Sean Stiennon
Street Fighters of the 41st Millennium: Gaunt's Ghosts: Necropolis by Sean Stiennon
How to Worldbuild a Good Sandbox: Four Rules from the 40K Universe by M Harold Page
Pariah: Ravenor vs Eisenhorn by Dan Abnett
John DeNardo: In Defense of Media Tie-Ins (Part 1)
See all our recent coverage of the best new upcoming fantasy here.