New Treasures: Dan Abnett's Warhammer 40K: Horus Rising on Audio CD
New Treasures: Dan Abnett's Warhammer 40K: Horus Rising on Audio CD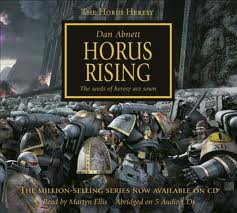 I have a 3-hour commute to my job in Champaign, Illinois, and I exhausted the excellent Dark Adventure Radio Theatre adaptations of H.P. Lovecraft's major works months ago. What's a bored commuter to do?
Rejoice when the latest Black Library Audio CD arrives, that's what. I thoroughly enjoyed Nick Kyme's Thunder From Fenris — a tale of desperate battles against a zombie plague (and worse) on a frozen planet — last year, and have been looking forward to the next release. Nothing helps the miles (and miles) of cornfields of  Illinois slip by like a fast-paced tale set in the Warhammer 40,000 universe, lemme tell you.
As entertaining as it was, Fenris was only 70 minutes, and it fit on a single CD. This week's mail brought the much more imposing Horus Rising: a 6-hour, 5 CD audio extravaganza adapting one of the central works in the Warhammer 40K canon – the tale of the epic betrayal of the immortal Emperor by his Warmaster, Horus:
It is the 31st millennium. Under the benevolent leadership of the Immortal Emperor, the Imperium of Man has stretched out across the galaxy. It is a golden age of discovery and conquest. But now, on the eve of victory, the Emperor leaves the front lines, entrusting the great crusade to his favourite son, Horus. Promoted to Warmaster, can the idealistic Horus carry out the Emperor's grand plan, or will this promotion sow the seeds of heresy amongst his brothers? Horus Rising is the first chapter in the epic tale of the Horus Heresy, a galactic civil war that threatened to bring about the extinction of humanity.

Abridged from the best selling novel by Dan Abnett and read by award winning star of stage and screen Martyn Eliis, Horus Rising comes to life in this almost 6 hour reading.
Six hours!  Just long enough to occupy me all the way to work, and back.  Champaign, here I come!