Dark Adventure Radio Theatre's The Shadow Over Innsmouth
Dark Adventure Radio Theatre's The Shadow Over Innsmouth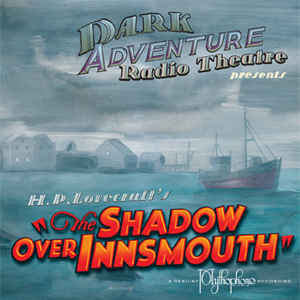 I work for a small software company in Champaign, Illinois.  I live in St. Charles, about three hours away. I spend a lot of time in the car. I've learned to love audio books.
In the past three years I've listened to The Old Man and the Sea, To Kill a Mockingbird, all seven Harry Potter novels, Stephen King's Dreamcatcher, Isabel Allende's Zorro, and dozens more.
It's how I get the bulk of my reading done these days. If I had someone to read fiction submissions to me in the car, I swear we could publish Black Gate weekly.
Late last month, as Highway 47 was smothered in fog and I made my way carefully through a desolate winter landscape, I popped an adaption of H.P. Lovecraft's  "The Shadow Over Innsmouth" into the CD player. It was, hands down, one of the best audio experiences I've ever had.
"Innsmouth" is one of Lovecraft's most well-known stories, a creepy and wonderfully atmospheric tale of a young tourist stumbling off the beaten path into a shadowy New England fishing village with a dark history and a rather nasty aversion to visitors — especially those who ask too many questions. It originally appeared in a minuscule edition of 200 copies in 1936, the only book Lovecraft published in his lifetime.
Dark Adventure Radio Theatre has transformed the story into a 77-minute radio play just as it might have been broadcast in the 1930s, with a large cast of talented actors, terrific sound effects, and original music. You'll hear the creak of doors, ominous footsteps, the muttering of hostile crowds, and the sounds of a frantic rooftop escape  from an unknown something, pounding through the walls.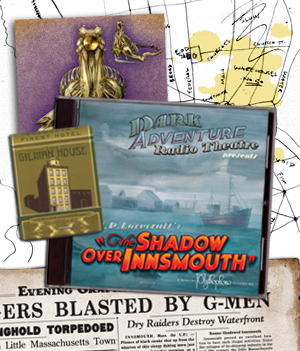 Dark Adventure doesn't skimp on the extras, either. That's them, laid out in the photo at right.  Packed into the tiny CD case was a handful of additional items, including a page from the  New York Evening Graphic dated Feb 27, 1928, highlighting the recent police raid on the smuggler's stronghold in Innsmouth (the flip side carries the lurid headline PRES'DT. CALVIN COOLIDGE FATHERED MY 'LOVE CHILD'), a matchbook from the Gilman House hotel (with a match!), a postcard of the sinister Innsmouth Tiara,  and even a scratch-n-sniff map of Innsmouth.
Nothing like the scent of three-day old cod to add that extra element of verisimilitude, let me tell you.
All this loving attention to detail reminded me fondly of the early Call of Cthuhlu boxed adventures from Chasoium Games, or the old Infocom text adventures, which always came crammed full with intriguing extras.
But it's the audio drama itself that's the real draw, and it is marvelous.  The source material — a period mystery that begins as a tightly plotted detective story narrated by a highly observant and articulate student to his FBI contact, and ends as a tale of eldrich horror — is splendid, of course.  But the adaptation, by Sean Branney with Andrew Lemon, voice acting (particularly Matt Foyer as Robert Olmstead) and the sound effects, are all top-notch.
So far Dark Adventure Radio Theatre has produced a total of four radio plays, all adapted from the work of H.P. Lovecraft: The Shadow Over Innsmouth, At the Mountains of Madness, The Dunwich Horror, and The Shadow Out of Time.
I don't know if more are planned, but I fervently hope so.