Black Gate 14 Sneak Peek: "The Mist Beyond the Circle" by Martin Owton
Black Gate 14 Sneak Peek: "The Mist Beyond the Circle" by Martin Owton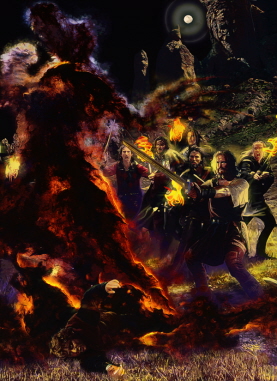 A band of desperate men pursue the slave traders who stole their families… across cold barrows where a dread thing sleeps.
A vast shadow filled the bowl, blotting out the meager moonlight, and Niall's cries came from the center. I drew my blade and ran towards Niall's voice and was stopped dead. It was as if I had collided with a wall of ice which then threw me backwards to land winded on the turf. An angry throbbing filled my ears, paralyzing me with fear. I felt held in the power of some huge savage beast.

Then Aron was there and the hold was broken. With his sword in his right hand and a blazing pine branch in his left, he ran towards the shadow that squatted over the barrows.

"Fire, bring fire you fools, drive it away from the barrows," cried Aron.
Martin Owton's "The Mist Beyond the Circle" appears in Black Gate 14, coming in February.  You can read a more complete excerpt here.
The complete Black Gate 14 Sneak Peek is available here.
Martin Owton's first story for Black Gate,  "A Touch of Crystal" was written with Gaie Sebold, and received this praise from Sherwood Smith at Tangent Online:
It's the voice that makes this entertaining tale about a young woowoo-loving woman named Clearspring Treesong Watkins who works at the local woowoo store.  Much as she works at her crystals and candles and rituals, she's not quite ready for the sudden appearance of enormous biker… Elves?  The dialogue snaps with energy, and the pacing never flags in this delightful tale, a superlative end to the new fiction.
Martin Owton lives near London, and is searching for a publisher for his adventure fantasy novel set in the same world as 'The Mist Beyond the Circle.'
Art by Malcolm McClinton.