The Best One-Sentence Reviews of H.P. Lovecraft: Announcing the Winners of The Madness of Cthulhu
The Best One-Sentence Reviews of H.P. Lovecraft: Announcing the Winners of The Madness of Cthulhu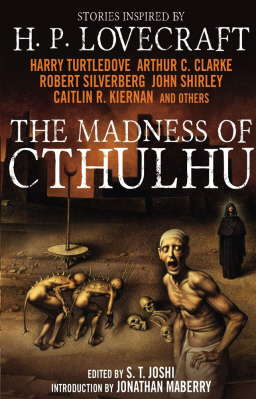 Earlier this month month, we invited Black Gate readers to send us a one-sentence review of their favorite H.P. Lovecraft tale.
In return, we offered to give out two copies of S.T. Joshi's major new horror anthology, The Madness of Cthulhu, Volume One, on sale this month from Titan Books. The winners were randomly drawn from a list of all qualified entries.
And what entries they were! This was the most popular contest we've run in some time — by a wide margin. Before we announce the winners, let's have a look at some of the best entries. We can't reprint them all, but we can share the Top 20 or so with you. (But fret not — all qualifying entries received before October 21 were included in the drawing.)
We left the choice of what story to review up to you, and we weren't too surprised to find most of Lovecraft's most famous stories represented — starting with one of the most famous horror stories in the English language. A reader who went simply by "Bob" kicked off the contest with his brilliantly concise entry:
What could possibly be better then rats…..in the walls?
The Rats in the Walls
Rich Miller beautifully sums up the appeal of this classic tale with his entry:
For fans of large rodents, ruined estates, underground caverns, degenerate humanity, and dark family secrets better left undiscovered, you can't go wrong with this classic Lovecraft tale from 1924.
Well said! I read "The Rats in the Walls" many, many years ago (long before I had any idea who Lovecraft was), and it's one of those stories that really stays with you.
The Shadow Over Innsmouth
The first time I encountered "The Shadow Over Innsmouth" was as an audio play from the marvelous Dark Adventure Radio Theatre, while driving the fog-shrouded back highways of Illinois. It's an experience I highly recommend (see my review here).
One of Lovecraft's most well-known stories, it originally appeared in a tiny edition of 200 copies in 1936 — the only book Lovecraft published in his lifetime. It's a wonderfully atmospheric tale of an adventurous tourist venturing off the beaten path, into a shadowy New England fishing village with a dark history… and a dangerous aversion to nosy visitors.
Here's Paul McNamee's take:
The story so chock full of Lovecraftian elements — sleeping gods, mutation, alienation, tainted blood, degradation, an isolated protagonist in an even more isolated, devolved village — that it defines and generates its own sub-genre within the Cthulhu Mythos.
And here's Jeffery Helms:
"The Shadow Over Innsmouth" is a story with elements of folklore, ancestral secrets, and degeneration leading to a hybrid race of half human and half sea creatures.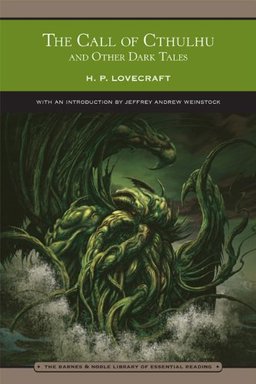 Yup, that about sums it up.
The Call of Cthulhu
"The Call of Cthulhu" is perhaps Lovecraft's signature story — it's certainly up there with "The Rats in the Walls" as one of his most famous. It is the tale at the very heart of the Cthulhu Mythos, which has inspired countless pastiches, movies, RPGs and video games.
Some stories inspire a sub-genre. "The Call of Cthulhu" is an entire industry.
Here's André Gulluni:
"The Call of Cthulhu" is probably my favorite story (and my favorite audiobook!) from HP Lovecraft; I find its one of [his] most cinematic stories, with great atmosphere and fantastic sense of dread throughout.
And Wade German:
As a young reader this story fed me with my first literature-inspired nightmares, with the idea that certain geometries could be wrong.
Wade, I certainly agree with you there… the non-Euclidean geometries of R'lyeh were simultaneously chilling and fascinating, and have captivated the imagination of thousands.
Lovecraft's tantalizing descriptions certainly inspired many artists to try to capture the skyline of R'lyeh over the years, and I expect it will for many years to come.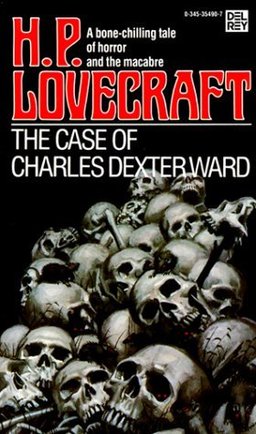 The Case of Charles Dexter Ward
I'm not sure I've read this one. I know that's weird.
Edward J. Almasy, Jr. sure makes it sound good, though:
"The Case of Charles Dexter Ward" evoked many sense responses; the smell of decayed bodies in the town house, the damp feel of the dungeons beneath the farm, the sounds of the creature in the pit, but most of all the pervading perception of fear and dread that I actually felt while reading it.
Wait, what? There's a creature in a pit? Hey — new rule. No spoilers!
The Statement of Randolph Carter
The "no-spoiler" rule also applies to "The Statement of Randolph Carter" because, while I'm pretty sure I've read it, I don't remember it. I suck.
Stan Wagenaar remembers it pretty well, though:
This tale just works by building suspense and terror without actually having the main character inside the "tomb" where the unspeakable terror resides — brilliant!
I shielded my eyes while I typed that one in. Seriously, no spoilers.
The Dunwich Horror
Now, I remember "The Dunwich Horror" juuust fine. Man, that Wilbur Whateley was one creepy dude.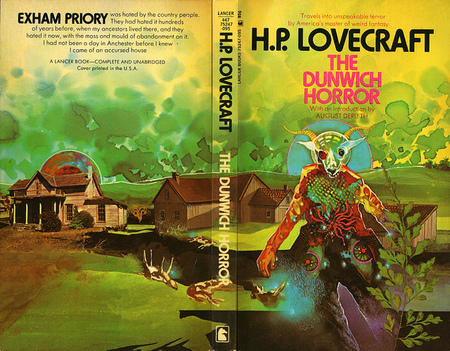 Fortunately for you, Mike Coffey is far more articulate in his entry than I:
My favorite Lovecraft story is "The Dunwich Horror," a blasphemous and ghastly tale of a small Massachusetts community, an unusual (although in their way deeply spiritual) family, two non-identical twins, and what happens when there is no one around to feed what's locked in the attic, best read under the rays of a waning gibbous moon.
Deeply spiritual… yeah, that's one way to look at it. If I could, I would award extra points to this entry for the use of "gibbous moon." Pay attention, those of you who never win contests.
The Colour Out of Space
"The Colour Out of Space" is rather unusual in Lovecraft's catalog, as it's more overtly science fiction than most of his work. But don't be fooled… at heart, it's a tale of pure, refined horror.
Here's Anthony Amenta's entry:
"The Colour Out of Space" is the best "creeping, depressing" horror story I have ever read… bits and pieces stayed with me for years after I read it.
And Andrew Slater's:
With "The Colour Out of Space," Lovecraft's power to bind science fiction and horror was never stronger; eerie and otherworldly, the story is one of the great peaks of cosmic terror and weird fiction.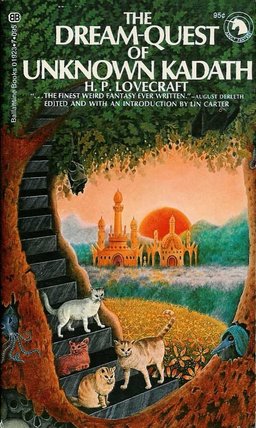 And finally, Jeanette Jackson:
Creepy sci fi tale of an evil visitor from space that attaches itself to one family and ends(?) in a spectacular way.
The Dream-Quest of Unknown Kadath
I recall Lovecraft's dream stories as being more straight fantasy than horror (although "straight" is probably stretching it a bit.) But Al Clark focuses on the darker aspect of the tales in his entry:
Ghouls, moon-beasts, Nyarlathotep and Night Gaunts add up to a hell of a story.
At the Mountains of Madness
And now we're back to one of Lovecraft's great masterpieces, the long novella "At the Mountains of Madness," originally published in Astounding Science Fiction in 1936, edited by John Campbell. Lovecraft and Campbell seem an odd mix to me; which perhaps explains why Lovecraft only managed to sell two stories to the top SF market of the time.
Kevin P. Breen does a fine job of summing up one of the most complex and amibitious novellas Lovecraft ever wrote:
A team of explorers even more isolated from humanity as those in John Campbell's "Who Goes There," facing overwhelming evidence of alien presence and horrific hints, (like the salt sprinkled on the bodies of their sister team), yet never meeting the aliens, only their guardian/slave shoggoth, makes this at once a tale of cosmic wonder and creeping horror.
That's a hell of a run-on sentence. Kudos for getting into the spirit of pulp prose with that entry, Kevin.
And here's John McCollum's take:
I enjoyed "At the Mountains of Madness" for its chilling depiction of an advanced and utterly alien civilization falling into ruin.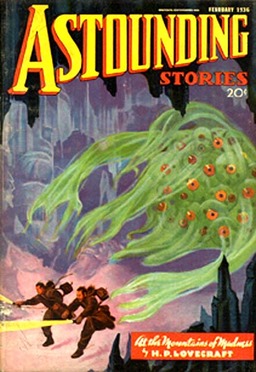 And finally Geza Reilly:
Only "At the Mountains of Madness" could combine rigorous pedantry, Depression-era politics, and a passion for desolate climes into one endlessly horrific story.
The Thing on the Doorstep
Long-time reader Harlan Krissoff contributes a fine summary of this tale:
"The Thing on the Doorstep" features the standard identity switch, but with a new twist that is so horrifying that by the time it ends, you may not be sure that you are you!
And our Tuesday blogger, Fletcher Vredenburgh, chimes in with an entry of his own:
A deliquescing corpse, black magic, and a very bad father-in-law; what more could a horror fan need?
The Dreams in the Witch House
Finally, for our last featured entry, Welleran draws attention to an often-overlooked Lovecraft tale:
"The Dreams in the Witch House" is a superb story, as it lacks the usual paraphernalia of many Lovecraft stories, while still remaining quite true to his larger oeuvre.
The Shadow Out of Time
I've been very impressed with the entries we received. I'm a life-long Lovecraft fan, but even I am inspired to go back and re-read some Lovecraft. In fact, my only disappointment was that my favorite Lovecraft story, "The Shadow Out of Time," didn't get a single mention. That's wrong. I suspect the machinations of the Great Old Ones.
So here's my one-sentence review of "The Shadow Out of Time":
A timeless novella of cosmic horror, "The Shadow Out of Time" features body-switching, extinct alien civilizations, time travel, and some of the most exciting archeology since The Raiders of the Lost Ark.
I wonder if this means I can enter my own contest…? Our lawyer will probably say "No," 'cause he's a jerk.
Well, there you have it — the best one-sentence reviews of the finest stories by one of the greatest horror writers of the 20th Century. If you're interested in our previous efforts in this vein, you may enjoy:
The Best One-Sentence Reviews of Edmond Hamilton
The Finest Sword & Sorcery
What Makes a True Hero?
The Best One-Paragraph D&D Adventures
The Best One-Sentence Reviews of Manly Wade Wellman
Announcing the Winners!
Although we announced this contest would result in two winners, thanks to the generousity of Titan Books, we have a total of three copies of The Madness of Cthulhu to give away.
Well, we've let the suspense build long enough. Without any further ado, here are our three winners:
John McCollum
Wade German
Jeanette Jackson
Congratulations to all the winners!  Please contact us with your current address and we'll put your copies in the mail. (And once again, it sucks that I didn't win.)
We'd like to thank Titan Books for providing the prizes and making the contest possible.
The Madness of Cthulhu, Volume One was published on October 7 by Titan Books. It is 304 pages, priced at $15.95 in trade paperback and $9.99 for the digital version.