New Treasures: The Bloodbound by Erin Lindsey
New Treasures: The Bloodbound by Erin Lindsey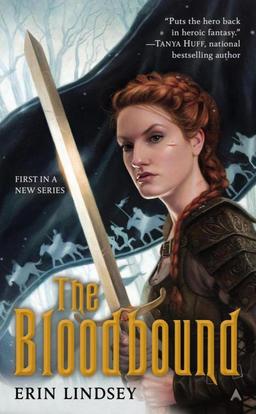 Erin Lindsey's debut novel is a tale of magic and court intrigue, the first in what looks like a promising new series. She also writes fantasy mysteries under the name E.L. Tettensor (including Darkwater, which we covered here last December).
Lindsey lives in Bujumbura, Burundi. I didn't even know where Burundi is. I had to look it up (it's in Western Africa). Already she knows things about the world I don't; I like that in an author.
Of all those in the King of Alden's retinue, the bloodbinders are the most prized. The magic they wield can forge invaluable weapons, ones that make soldiers like Lady Alix Black unerringly lethal. However, the bloodbinders' powers can do so much more—and so much worse…

A cunning and impetuous scout, Alix only wishes to serve quietly on the edges of the action. But when the king is betrayed by his own brother and left to die at the hands of attacking Oridian forces, she winds up single-handedly saving her sovereign.

Suddenly, she is head of the king's personal guard, an honor made all the more dubious by the king's exile from his own court. Surrounded by enemies, Alix must help him reclaim his crown, all the while attempting to repel the relentless tide of invaders led by the Priest, most feared of Oridia's lords.

But while Alix's king commands her duty, both he and a fellow scout lay claim to her heart. And when the time comes, she may need to choose between the two men who need her most…
The Bloodbound was published by Ace Books on September 30, 2014. It is 359 pages, priced at $7.99 in both paperback and digital formats. The cover art is by Lindsey Look.