Bridging the Cultural Gap between Canada and the USA
Bridging the Cultural Gap between Canada and the USA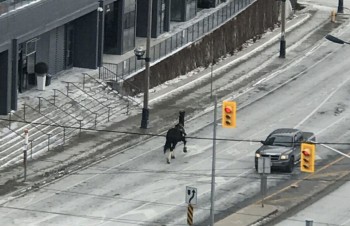 I've lived in Latin America, visited Asia, parts of Europe, and even been part of the Canadian Foreign Service. I can't say I understand our neighbors to the south. (I only recently discovered that 'Bless your heart' is an insult.) But I'm doing my best to cross the cultural barriers between Canada and the States because as my writing career continues, more and more of my social and professional group is in the US. Writers. Agents. Editors. Friends.
Recently, when Mishell Baker was visiting, I demonstrated how Canadian milk works and when the time came to open a new bag, gave her the chance to try. When Analog editor Trevor Quachri was visiting, I made sure to show him the bear sculpture and show him beaver tails.
But on an ongoing basis, now that I have a New York literary agent, I do my best to provide her with as much information as possible about how to best handle a Canadian client. I'm aware that what is normal for me might not be normal for her, so I send her videos and articles.
For example, Canada is going through its own crime wave. Last year in Miramichi, some people tried to go through a McDonald's drive-thru on a chesterfield pulled by an ATV. This year, a bank was robbed in New Brunswick and the thieves were only caught when they stopped in their get-away to go through a Tim Horton's drive-thru. Two weeks ago, a police horse in a lime-green vest got away and almost got onto the Gardner Expressway in Toronto.
Now, before I drive away tourist dollars, Canada isn't all chaos and many of the things that permeate Canadian culture are still here. For many being Canadian starts at birth. Here's a video showing the start of the circle of life:
Canadians have to be attuned to nature, like elves or druids, with an ability to co-exist with the plants and animals:
These rigours help us through the crime waves gripping our country and yours, and who knows? Maybe we'll find common solutions to our problems. This next one is not for the faint of heart and shows an actual mugging caught on film.
Thank you for being culturally open.
---
Derek Künsken writes science fiction and fantasy in Gatineau, Québec. He tweets from @derekkunsken. His first novel is being serialized right now by Analog Science Fiction and Fact (Jan/Feb 2018 issue until May/Jun 2018 issue) before its book release by Solaris Books in October.