New Treasures: Warhammer 40K: Pariah: Ravenor vs Eisenhorn by Dan Abnett
New Treasures: Warhammer 40K: Pariah: Ravenor vs Eisenhorn by Dan Abnett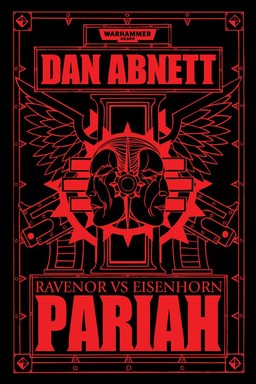 We don't show Black Library and Games Workshop enough love here at Black Gate. Something of a crime, since they specialize in exactly the kind of thing we celebrate — exciting, original adventure fiction from talented writers, set in a wonderfully realized fantasy world.
Maybe it's because my sons, die-hard Warhammer 40K fans both, keep stealing the frickin' books the instant they arrive. Case in point: Pariah: Ravenor vs Eisenhorn, the new novel from superstar Dan Abnett. I bought it a few weeks ago and it vanished scant hours after it was delivered. I'm pretty sure it's still in the house, somewhere. If evidence is any guide, I'll find it on laundry day, at the bottom of a pile of gym socks.
So I have to write this relying solely on memory — and fleeting memory at that. Bear with me.
To start with, I remember the book looked great, and I sure was anticipating sitting down to read it. It brings together two of Abnett's most famous creations: Inquisitor Gideon Ravenor, crippled hero of the Ravenor trilogy, and the infamous radical Gregor Eisenhorn. Here's what my good buddy Howard Andrew Jones said about the earlier Eisenhorn Omnibus, which collected all three novels of the Eisenhorn trilogy and a handful of shorter works:
Dan Abnett wasn't satisfied with creating a fabulous lead character in an action-packed space opera; he sent him to fantastic places and provides a series of detective/investigative stories full of logical turns, surprises, and plenty of action.
A pretty apt description of the Ravenor books too, now that I think about it.
Well, in Pariah, Eisenhorn and Ravenor are both back, and this time they're squared off against each other. Sounds like the first act of an epic team-up to me.
Now Inquisitor Gideon Ravenor returns to action to hunt the most dangerous enemy he has ever encountered, a disgraced inquisitor, driven by obsession to bind daemons to his will and consort with heretics. For Ravenor, this is more than just a manhunt; it is personal. This foe was once his greatest ally and most trusted friend: his old mentor, Gregor Eisenhorn.
Pariah: Ravenor vs Eisenhorn is the first volume in The Bequin Trilogy. It was published by Games Workshop on October 23, 2012. It is 320 pages in hardcover, priced at $24.99. There is no digital edition — which means I can't buy a cheap digital replacement. No, if I want to read this one, I'm going to have to mount a Phase One room-to-room search, like in the "Court Martial" episode of Star Trek. Now if you'll excuse me, I think I'll get started.