Neil Clarke has produced some standout anthologies in the last few years, including Galactic Empires, two volumes of The Best Science Fiction of the Year, and of course his annual Clarkesworld collections. His upcoming book More Human Than Human: Stories of Androids, Robots, and Manufactured Humanity, with original tales from Rachel Swirsky, Robert Reed, Ian McDonald, Lavie Tidhar, Alastair Reynolds, Ken Liu, Charles Stross, Cory Doctorow, Catherynne M. Valente, Genevieve Valentine, Jeff VanderMeer, and many others, looks like one of his best.
I'm rather taken with the cover, as well. It's by Donato Giancola, one of my favorite artists, who did the cover of Black Gate 15 for us. You can see the original artwork at left above, and how it appears on the cover of More Human Than Human, above right. Donato is a master of small details, and is marvelously skilled at integrating those details into a visually striking whole. His covers frequently tell a story, as this one does, although the key to the story is often hidden in the details… just as it is here.
[Click the images for bigger details.]
The superficial tale this cover tells — of a woman comforting a robot as she stares accusingly at an unseen figure, with evidence of recent violence (a broken window) behind her — is certainly compelling enough, but there's more to it than that. I give full credit to Neil for helping me spot the more interesting details. Here's a snippet from a June 21 Facebook post by Neil.
There are some subtle elements in Donato's cover art that I really like. This might help you spot my favorite.
As here's the close crop Neil offered (click for a bigger version.)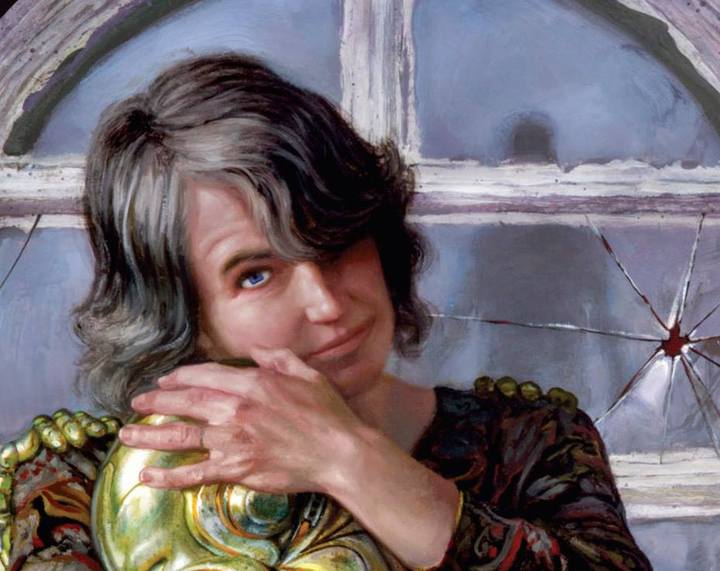 Donato discusses the cover, and some of his more recent work, in an article titled "Chosing to be Different" at the Muddy Colors blog.
Being really different is initially very easy to pull off. If you've ever shaved your head, painted your face or worn clothing so far out there it shocks nearly any audience you engage with. The real challenge is finding a way to live with those choices and make them a part of your new lifestyle and community without burning every bridge you've built, social or otherwise.

The same is true when it comes to art, it's easy to make up a new style, arrange patterns drastically different, or flex some new material muscle. The telling is in who will now 'buy' what you are selling, both figuratively and literally. Tapping into an audience that wants to consume what you have to offer is one of the greatest difficulties most artists strive to overcome.
Here's the catalog text for the book.
The idea of creating an artificial human is an old one. One of the earliest science-fictional novels, Frankenstein, concerned itself primarily with the hubris of creation, and one's relationship to one's creator. Later versions of this "artificial human" story (and indeed later adaptations of Frankenstein) changed the focus to more modernist questions… What is the nature of humanity? What does it mean to be human?

These stories continued through the golden age of science fiction with Isaac Asimov's I Robot story cycle, and then through post-modern iterations from new wave writers like Philip K. Dick. Today, this compelling science fiction trope persists in mass media narratives like Westworld and Ridley Scott's Blade Runner, as well as twenty-first century science fiction novels like Charles Stross's Saturn's Children and Paolo Bacigalupi's The Windup Girl.

The short stories in More Human than Human demonstrate the depth and breadth of artificial humanity in contemporary science fiction. Issues of passing… of what it is to be human… of autonomy and slavery and oppression, and yes, the hubris of creation; these ideas have fascinated us for at least two hundred years, and this selection of stories demonstrates why it is such an alluring and recurring conceit.
And here's the complete Table of Contents,
"Dolly" by Elizabeth Bear
"A Good Home" by Karin Lowachee
"The Djinn's Wife" by Ian McDonald
"And The Ends of The Earth For Thy Possession" by Robert B. Finegold
"Patterns of a Murmuration, in Billions of Data Points" by JY Yang
"The Birds and the Bees and the Gasoline Trees" by John Barnes
"Fixing Hanover" by Jeff VanderMeer
"Grand Jeté (The Great Leap)" by Rachel Swirsky
"Brisk Money" by Adam Christopher
"Act of Faith" by Fadzlishah Johanabas
"The Caretaker" by Ken Liu
"Seven Sexy Cowboy Robots" by Sandra McDonald
"We, Robots" by Sue Lange
"The Education of Junior Number 12" by Madeline Ashby
"A Hundred Ghosts Parade Tonight" by Xia Jia
"The Man" by Paul McAuley
"The Robot's Girl" by Brenda Cooper
".identity" by E. Catherine Tobler
"American Cheetah" by Robert Reed
"Artifice" by Naomi Kritzer
"Small Medicine" by Genevieve Valentine
"Silently and Very Fast" by Catherynne M. Valente
"I, Robot" by Cory Doctorow
"Bit Rot" by Charles Stross
"Angels of Ashes" by Alastair Reynolds
"The Old Dispensation" by Lavie Tidhar
"Today I am Paul" by Martin L. Shoemaker
The previous Neil Clarke anthologies we've covered include:
Galactic Empires
The Best Science Fiction of the Year: Volume Two
The Best Science Fiction of the Year, Volume 1
Clarkesworld: Year Eight, edited by Neil Clarke and Sean Wallace
Clarkesworld: Year Seven, edited by Neil Clarke and Sean Wallace
Clarkesworld: Year Six edited by Neil Clarke and Sean Wallace
If you don't already, you should make it a habit to regularly check out Neil's excellent magazine Clarkesworld, one of the finest SF magazines available.
More Human Than Human: Stories of Androids, Robots, and Manufactured Humanity will be published by Night Shade Books on November 7, 2017. It is 672 pages, priced at $19.95 in trade paperback and $10.99 for the digital edition. The cover is by Donato Giancola. Read more details at Neil's blog.
See all of our coverage of the best upcoming SF and Fantasy here.