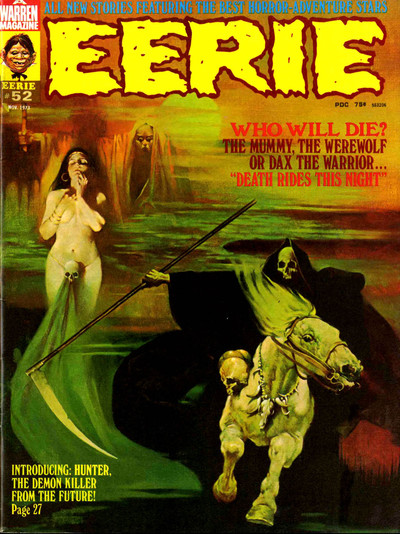 In time for coincidence with Hallowe'en, a friend recently pointed me at Bloke's Terrible Tomb of Terror, a magazine walking in the path of such 1970s Warren horror magazines as Creepy and Eerie. I picked up a pdf copy just before the etsy store went on a bit of a break while The Bloke (Jason Crawley) moves house and shop. (30 October, 2017: The Bloke's site is back up and I just bought two more issues at the online shop.)
I was surprised by how much I enjoyed it. I was really only a superhero guy and a light Marvel horror/monster guy (Son-of-Satan (blogged about here), It, Strange Tales) when I was 10-15 years old, so the Warren style wasn't really my bag back then.
[Click the images for bigger versions.]
But reading Bloke's Tomb #16 was fun. There were six stories, featuring mortals running into ancient goddesses, witchcraft, a haunted house and the devil, as well as first contact with aliens and carnivorous trees in dark scifi. Obviously none of the stories ended very well for the people making these encounters.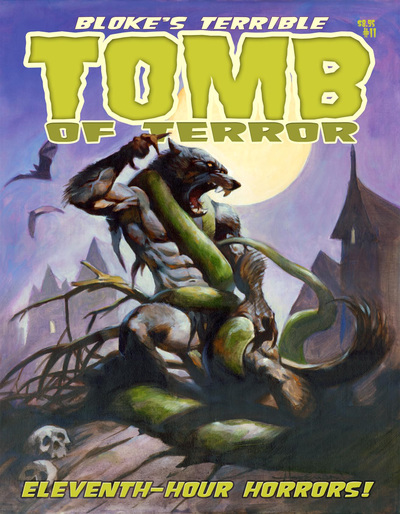 Jason (the editor) writes about half the stories and other writers do the rest. The art is high quality, hewing to the style of Warren's old magazines.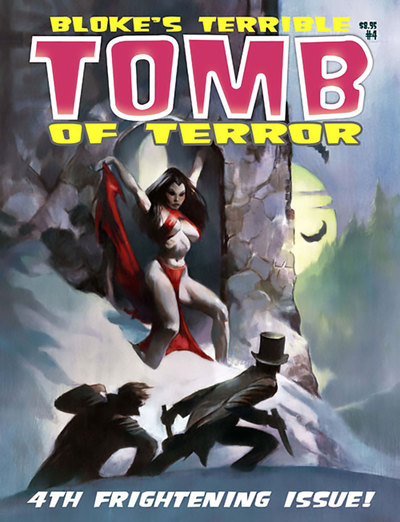 I'll buy the earlier issues, but while waiting for Bloke's shop to start selling the pdfs again, I found some old Eerie magazines (#51-57, 1974).
Eerie billed itself as horror adventure and it was a ton of fun. I found that each anthology issue was a mix of stand-alone stories and lightly-serialized pieces (not as serialized as those in 2000AD (blogged about here and here) – any one of these could be read on its own, but a through-line is clearly there).
Some of the stories from the six issues of Eerie I enjoyed were:
The Mummy Walks: a story about a modern guy with his consciousness trapped in a mummy's powerful body, but he can't transfer back to his own body, because thieves stole the amulet that put him there, so he's a wanderer trying to find the amulet. In the meantime, issue after issue, he runs into magicians, ghouls, grave-robbers, werewolves, murderers, etc.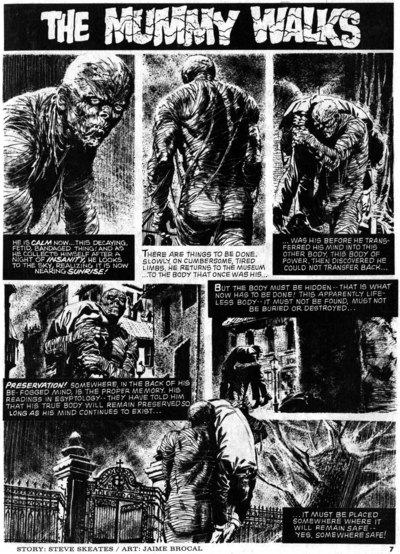 Curse of the Werewolf: A man is a werewolf and he's been cursed by a Roma witch to remember all that he does when he is under the influence of the full moon.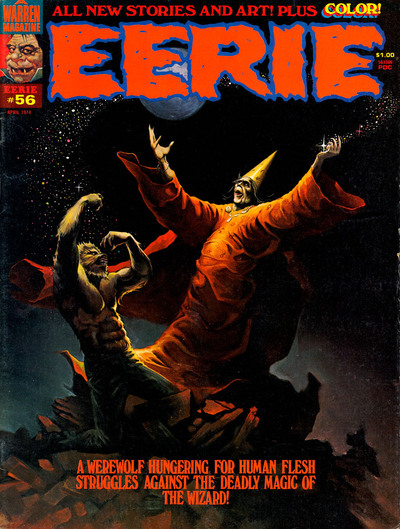 In a neat twist I haven't finished reading, he also gets put into a mummy's body, so he's a lycanthrope mummy! I didn't see that coming, but he sure is destructive to those around him.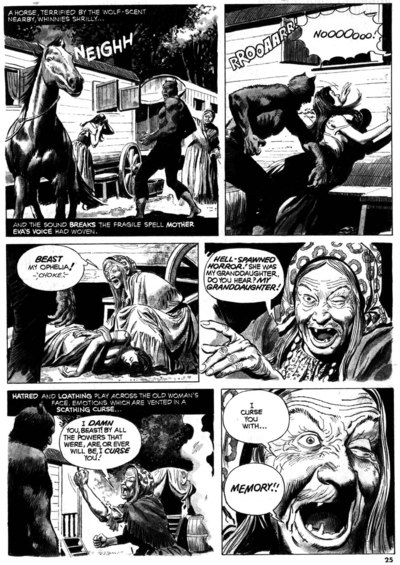 The Hacker: This is not the kind of hacker we think of in 2017. In 1974, they meant a guy running around 1880s London dismembering people (hacking them with a cleaver). This is an ongoing police procedural with the early Scotland Yard.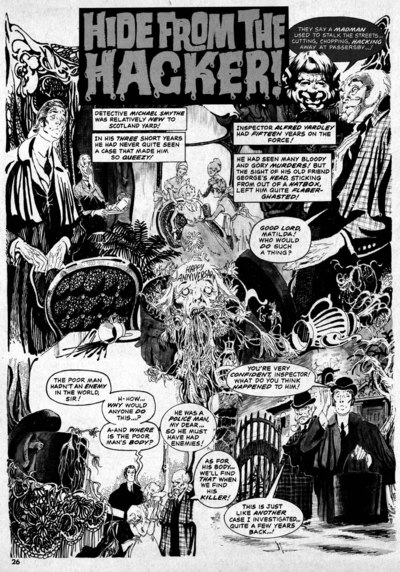 Dax the Warrior: hit its final story in one of my first issues, so I didn't see what came before, but here an angel of Death comes to take him and he resists her, even turning her from her master, but then Death comes in to punish the angel and send Dax back to the land of the living, where (twist!) he's laying on the battlefield, his spine hopelessly broken.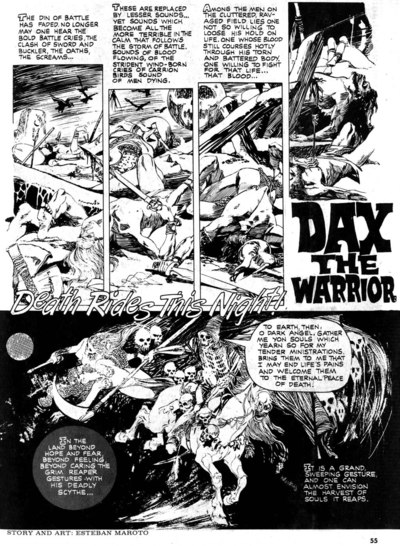 A neat one-shot story was The Beheaded, featuring con artists trying to get the location of a hidden treasure in a mansion from a headless ghost. It should surprise no one that the con artists ought probably to have stuck with bank jobs.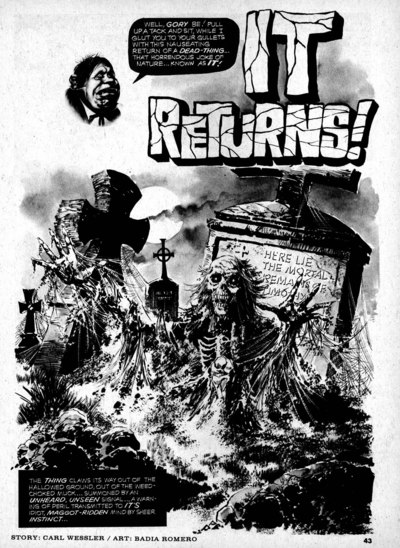 The Spook: is about a dead guy who ends up fighting a voodoo priestess who is raising the dead as zombies. And It: The Terror of Foley Mansion is about a haunted mansion and the post-living who protect it from trespassers and thieves.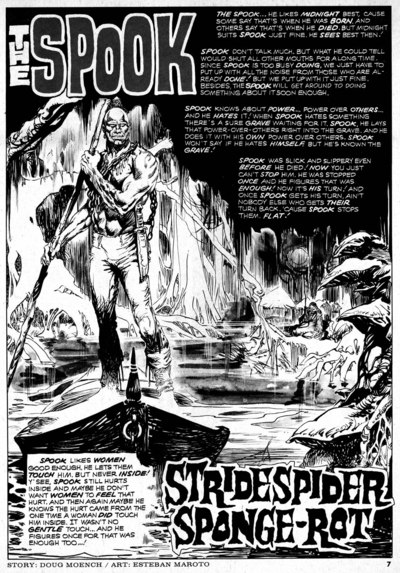 Some of the stories I've brought up are silly, perhaps not in the sense the creators intended, but most are internally cohesive and earnest in their suspension of disbelief, such that more than four decades later, they're still potent.
I'm going to check out more Eerie magazines, and its heir, Bloke's Terrible Tomb of Terror. You might want to as well. Happy Hallowe'en!
---
Derek Künsken writes science fiction, fantasy and horror in Gatineau, Québec. This weekend, he's in Austin, Texas, for the film festival, and then in San Antonio for the World Fantasy Convention. Then he's off to Chengdu, China as a writer Guest of Honour at the 4th International Science Fiction Conference. Keep up with his tweets at @derekkunsken.