Early Peek at 2000AD Prog #2050: A Jumping-On Issue
Early Peek at 2000AD Prog #2050: A Jumping-On Issue
2000AD is a weekly anthology book, typically with 4 stories running at a time, with some at the middle while others are ending, which makes it hard to find a meaty run to review. Several times a year, 2000AD publishes issues (pronounced progs if you're speaking with a British accent) for new people to jump on — where every story is beginning.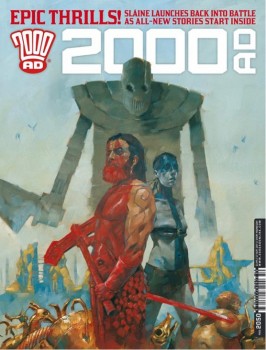 Prog #2050 is such an issue and will be hitting newsstand (and the internet as a digital issue) on September 25th, so I thought I'd get into it. This was a large-sized issue (48 pages) and contained 7 new stories that you don't have to know much at all about the world of 2000AD to start reading.
Judge Dredd is obviously Judge Dredd, the flagship character of 2000AD, and the first story starts off with the government deciding it would be a good idea to erect a statue of Dredd in a zone of the Mega-City. Him being a zero-tolerance fascist (cop and jury-free judge), this pitted people who hated his guts against people who felt he'd made things better, with some mischief-makers tossed in for measure. This first story in a new arc is by Eglington and MacNiel.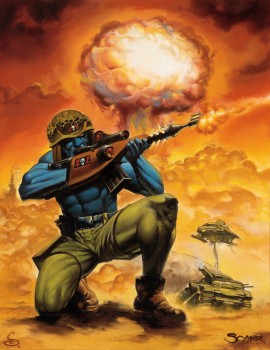 The Rogue Trooper story by James Robinson (of Starman and JSA fame, as well as many other Marvel and DC properties) and Leonardo Manco: This was actually my first Rogue Trooper story ever. I'd really enjoyed the war crimes investigator stories (Jaegir) set on Nu-Earth and reviewed it here.
We now watch the relentless Rogue Trooper chopping through Nord armies from the point of view of their helpless commander, who may have information about the traitor general Rogue Trooper has been hunting all these years. I enjoy Robinson's writing and Manco's art fit perfectly.
Grey Area, by Dan Abnett (of many 2000AD scifi stories fame, as well as the modern, cinematic conception of the Guardians of the Galaxy) and Mark Harrison: Grey Area is a set of story arcs that's been appearing in 2000AD for a while that I haven't managed to turn my attention to (I might have been too busy reading Abnett's Brink series).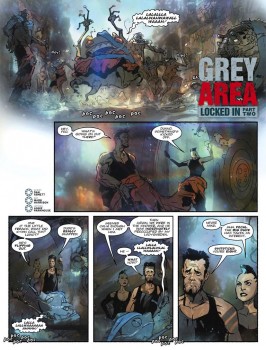 This story follows a crew of armed people who manage and control aliens living on Earth. There's something weird going on though. A whole lot of crews, plus armies, are being gathered in the Middle East. This can't be good. Much fun. And loved the art. I will continue reading.
Call me a barbarian, but I kind of skimmed over Slaine. The Simon Davis art is lush and evocative, and I don't doubt that Pat Mills did an amazing job (I like everything of his I've read), but I'm just not drawn (no pun intended) to Celtic war stories. Throw battle axes at Black Gate's editor extraordinaire John O'Neill if you're mad — he hired me!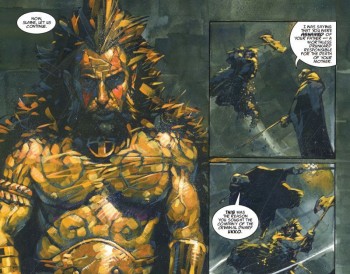 Indigo Prime by John Smith and Lee Carter: This is another series that has appeared in 2000AD before (started in Prog #1986). It's about an organization living outside of time, policing the multiverse. Cool, right? And Carter's art is amazing, very detailed and emotional and tonally different from anything else in the prog. This portion of the story was the set-up, but things are obviously bad: the agency's been damaged and it looks like it's haunted too.
I love me some Sinister Dexter by Dan Abnett and Steve Yeowell. Sinister and Dexter are assassins à la the Pulp Fiction movie, and they've been gone a while and are finding their city significantly different than they remember when they try to unload a body that they've newly rendered dead. They're always stylish and fun and violent.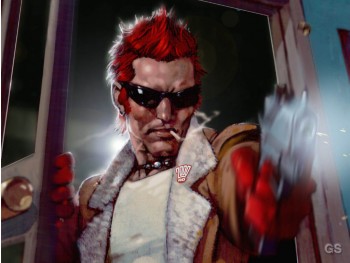 The last story is set in one of my favorite 2000AD worlds: Deadworld, by Kek-W and art by Dave Kendall. Deadworld carries on after an apocalypse caused by Judges Death, Fear, Fire and Mortis. It's moody, spooky, dark, depressing, and perfectly drawn/painted by Dave Kendall. The art alone is worth the price of admission. This story opens on the anti-hero (Judge Fairfax) in captivity and Sister Psiren, a captor, trying to hide that she's not slowly going out of her mind because she just recovered memories of who she used to be. And omg, the art!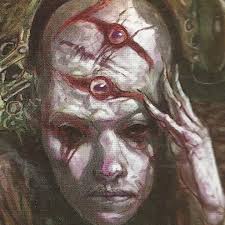 This issue (or prog if you prefer) was a great jumping on point for 2000AD, and I had fun with it. It will be in stores and on the internet digitally on September 25th, 2017. It's a 48-page beauty, and you may like it. I did. If you know nothing about 2000AD and you'd like to know more, I also took a look at the 40-year history of 2000AD in this post.
---
Derek Künsken writes science fiction and fantasy in Gatineau, Québec, and tweets from @derekkunsken. He's heading down to New York Comic Con in three short weeks!