Thrill-Power Overload: A History of the British Comic 2000 AD
Thrill-Power Overload: A History of the British Comic 2000 AD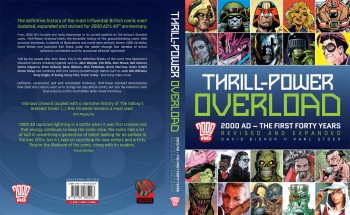 I love comic book history. I've got a few books at home of the golden and silver age of American comics I reread every so often.
I recently got the chance to check out Thrill-Power Overload, the history of the British comic book series 2000AD in honor of their 40th anniversary.
I usually read only American comics, but over the last two years, I've been reading 2000AD and Judge Dredd comics, both the recent ones, and some of the their collected volumes, so this was a timely discovery for me, and a fascinating one.
2000AD was an experiment when it launched in 1977. British comic books were weekly publications, and not glossy, and until the launch of 2000AD, they were very much targeting younger readers with pretty tame, conservative stories with production and artistic values that didn't even credit the creators.
2000AD's editorial and creative team had a vision of a far edgier anthology science fiction comic book, one whose tone I can best describe as punk rock sensibilities seen in sequential story, or an anti-authoritarianism giving the finger to the world. The creators of the time call the tone comedy and violence.
It featured genetically-engineered soldiers, robot fighters (and fighting robots), soldiers, assassins, and most importantly, Judge Dredd, a futuristic police officer of centuries in the future, stopping crime in the combined roles of police, judge and executioner.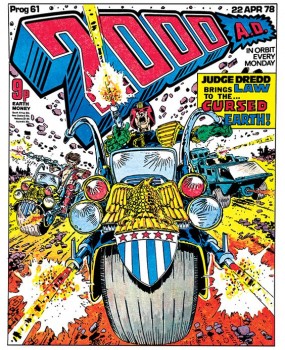 The early (and I suppose the ongoing) struggle of the creators was getting a lot of their violence and gore past their own company's management. It doesn't sound like the parent publishing company IPC had a lot of faith in the book, and the early history is filled with anecdotes of editors being forced to use white-out on art that was too graphic, or management-editorial discussions of "do you really need that many dead bodies?"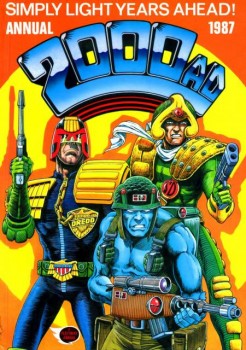 Yet despite this lack of management support, and some of the newness of some of the writing and art talent (they were always looking for new creators who could deliver fast and good), and the tremendous pressure of putting out four 7-page stories per week, the the bubbling creative energy of 2000AD won over fans right away. It wasn't like anything else on the stands.
And they kept those readers into the 1980s, when the anti-establishment tone of the stories resonated with people who weren't happy with Thatcher's conservative government and Reagan's nuclear sabre-rattling at the height of the Cold War. It wasn't a far stretch for kids in Britain to get behind post-holocaust dystopias.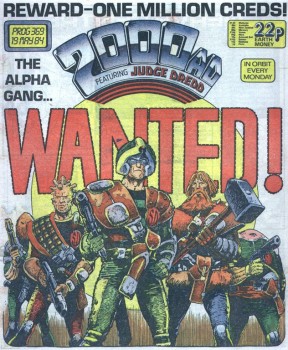 Thrill-Power Overload is a big, detailed work, covering in over 300 pages many of the important storylines and their impact on the book and the creators and the fans. At the same time, it's a remarkably warts-and-all history filled with frustration, anger, ambition, and vision. Management gets skewered by creators and editorial, while creators are free with quotes about editorial failings, as well as the failings of other creators. Many are the anecdotes of "so-and-so had great ideas, but overwrote, and so we had to constantly rewrite his scripts" or "we tried so-and-so and they just couldn't draw the action we needed…"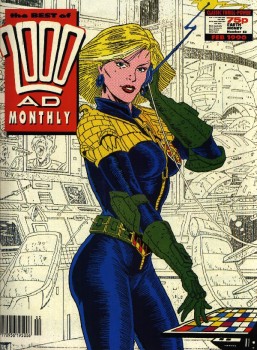 Interestingly, the industry itself was very much set up against a British comic ever making it big. It was 2000AD that finally got writers and artists credited in the comic, but only because someone pulled a fast one and management didn't notice in time. And the struggles like not being allowed to carry an inventory of finished work (for a weekly book!) meant delays, and work that all admitted was sub-standard just because of deadlines.
And while in American comics, the issue of creators' rights was certainly not solved by the 1980s, it's a statement of how bad things were in Britain that UK creators were being poached by higher pay and better rights in the USA, even in those time. 2000AD creators invented new IP all the time, but as employees, gave over all rights, even when the company was reprinting their work in anthologies and making money.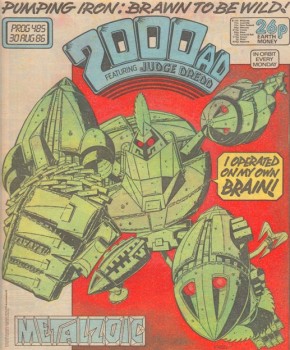 What's truly remarkable too is what a training ground 2000AD was for writers and artists. So many creators did their early careers in 2000AD. This is just an abbreviated list, but: Garth Ennis (Preacher), Alan Davis (X-Men, Captain Britain), Brian Bolland (Batman the Killing Joke), Alan Moore (Watchmen, V for Vendetta), Mark Millar, Neil Gaiman (Sandman), Dave Gibbons (Watchmen), Al Ewing (Mighty Avengers), Frazer Irving (Batman), Grant Morrison (Batman and Robin, All-Star Superman, recently Nameless, which I reviewed here), and so on and so on.
With a 40 year history, 2000AD has some ups and down, creatively and economically, and has been sold a few times over, but I can attest that they are still publishing science fiction comic anthologies weekly to this day.
If you like comic book history, this one is a departure from DC and Marvel and the North American golden age we know. And it also points to the authorial and artistic points of view that invaded American comics in the 1980s, resulting in major shifts in what comics can be and do. I really enjoyed it.
---
Derek Künsken writes science fiction and fantasy in Gatineau, Québec. His short fiction has been reprinted in several year's bests, and has been podcast in a number of fun places you can find through derekkunsken.com.