A Grab-Bag of Comic Reviews: Southern Bastards, Jaegir, Deep End
A Grab-Bag of Comic Reviews: Southern Bastards, Jaegir, Deep End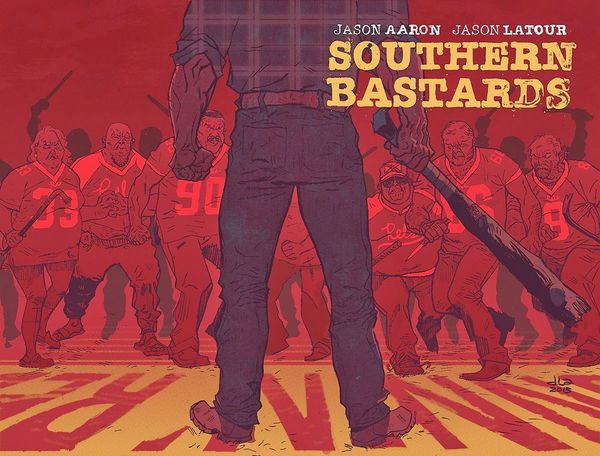 My comic reading has jumped all over the place this month, but I've been finding lots of good stuff.
Southern Bastards: I picked up Southern Bastards as part of a massive Image Humble Bundle last year. I finally got to Volume 1 this 2014 series by Jason Aaron and Jason Latour.
It was scary amazing.
I know nothing about the deep south, but both Jasons come from there. Their mission is: to write about the place they grew up in in all the ways it is peaceful, primal, timeless, haunted, hateful, spiritual, beautiful and scarred.
The story follows an old man called Earl Tubb, who comes back to Craw Country after forty years to pack up the old family house.

His father was sheriff a long time ago and was murdered by the town. The people running the town now are a lot like the people who ran it back then, and something makes Earl not leave after finishing his packing. Violent, unflinching, evocative, detailed, scary. I'm definitely going to check out the next volumes.
Jaegir, Warchild: This is a 4-part story by Gordon Rennie and Simon Coleby that appeared in issues (progs) 1996-1999 of 2000AD. This story is part of the Rogue Trooper world of 2000AD, where a genetically-engineered super-soldier of the Southers fights the evil Nords. Rennie and Coleby decided to explore the Nords through the character of Kapitan-Inspector Atilia Jaegir of the Nordland State Security Police, a war crimes investigator. I originally heard about this character from a 2000AD podcast with the creators and decided to check it out.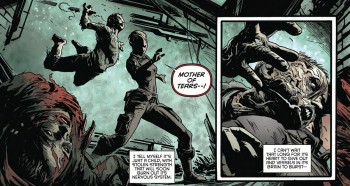 This short story follows a graphic novel full of material and is the beginning of Jaegir coming to terms with her father, who is the dishonored war hero/war criminal, Field Marshall Jaegir, who is now calling on his estranged daughter to help him as the Nord state begins to finally have enough courage to move against him.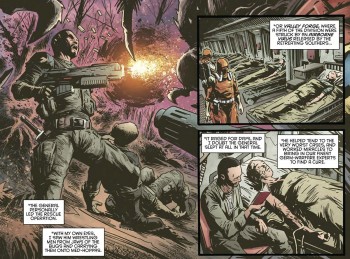 The world is brutal, depressing, totalitarian, poor and Jaegir is a fascinating character. For some reason, the Rogue Trooper world, specifically the Nord State, has got me curious, so I'm going to see about digging up the earlier Jaegir graphic novel and keep an eye out for future Atalia Jaegir stories in the weekly anthology comic.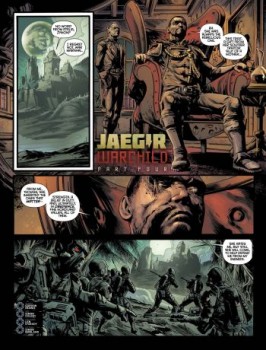 Judge Anderson Deep End: The story from the Judge Dredd Megazine follow rookie psychic Judge Cassandra Anderson as she adapts to life as a cop in Mega-City Onein a Year One sort of arc.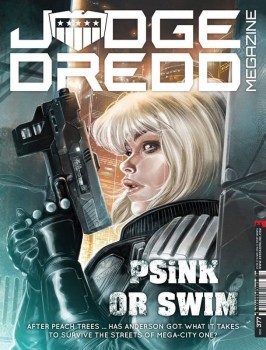 It looks like some crimes are happening that are due to supernatural possession, which obviously isn't what she's trained for or believes in, but she's got to deal with it.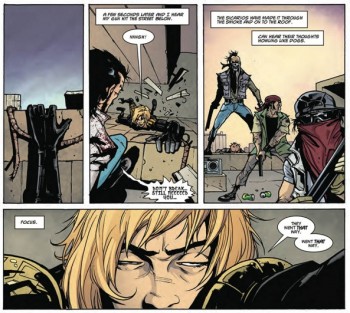 I actually prefer Judge Anderson to Judge Dredd. The idea of a psychic judge opens up so many cool story possibilities, and yet doesn't overpower the story. Plus Judge Anderson seems smarter and more of a corporate agent than Dredd's Dirty Harry routine. And I enjoyed the Deep End story and will be keeping my eyes open for other trades of hers, as well as any stories in the weeklies.
I hope this wasn't too random a grab bag. I had a lot of busy weekends and travel, so my reading was a lot of podcasts and audiobooks, with a lot more randomness in my comics!
---
Derek Künsken writes science fiction and fantasy in Gatineau, Québec. He tweets sense and nonsense at @derekkunsken.