The Story of Your Life: Arrival
The Story of Your Life: Arrival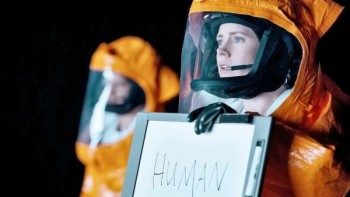 Having taken in Arrival at my basement Cineplex, I proceeded at once to my local library, to dig up a copy of Ted Chiang's "The Story Of Your Life," on which Denis Villeneuve's film is based. I suspected I would discover that the adaptation took broad liberties with Chiang's original story, and I was not disappointed.
But I'm getting ahead of myself.
This notion of being ahead of oneself, as you'll soon discover –– or know already, if you're familiar with either Arrival or "The Story Of Your Life" –– might be considered a joke. A wry joke, at best. Sad, perhaps. Devastating.
Those of you who've sampled my earlier Black Gate broadsides will know I reserve a special spot in hell for Hollywood blockbusters, especially those that require "saving the world." Be the threat cosmic meteors, lunatic super villains, or ray gun-toting space aliens, if the point is to employ CGI and blow up everything in sight, I'd rather head to the local junkyard and watch the bumpers rust.
Hence my anticipation when it came to Arrival, which, by all accounts, would dispense calm, measured, adult story-telling.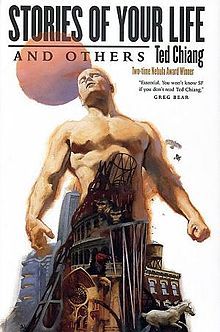 And so it does. Anchored by Amy Adams, as reliable and sympathetic a performer as Hollywood now has, Arrival sets out to convince its audience that what they're about to see is the latest update on a "first contact" story, a row well-hoed by everyone from H.G. Wells to Jodi Foster. What Arrival eventually delivers is quite different, a meditation on foresight and what commitment means in the face of certain disaster.
But here I am, getting ahead of myself again. If Arrival, and Chiang, have their way, this state of being is inescapable. Given the correct conceptual tools, I'm already ahead of myself, and always will be.
Spoilers abound from here on in. Readers, you have been warned.
Arrival has our world's geopolitical realities very much on its mind throughout. The aliens that Adams's Dr. Louise Banks visits (in Montana) have also parked their enormous elliptical craft in multiple locations around our powder-keg planet, including in the back yards of our "enemies," Russia and China. China responds with particular bellicosity, and the movie relies on that nation's warlike demands to affix a ticking clock toward which the plot races. Banks, as our hero du jour, manages to defuse, pretty much all on her lonesome, what would otherwise be a global cataclysm. How does she manage this? By being herself. By following her professional calling, linguistics, right to the very edges of perception.
Villeneuve tricks viewers at the start by handing his audience a neat-as-a-pin backstory for Banks, a short and tragic prologue that riffs on the romance (and mini-masterpiece) that opened Pixar's Up. Recall, however: time is of the essence, and by the film's close, Villeneuve reveals that he's played us for fools. Thanks to Dr. Banks's grasp of the aliens' orthography, she no longer experiences time as linear. Therefore, neither do viewers. In bursts, Banks can see the future (and again, so do we, the audience). What seemed to be past tragedy in the film's opening is instead a heartbreaking intimation of what must follow.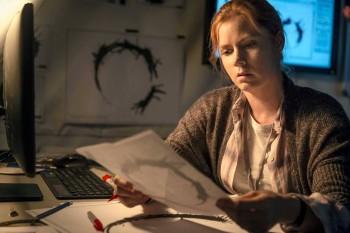 As Ireland's The Wind and the Wave sang, "It's a race to the death, baby; don't make it harder than it is." Villeneuve, through Chiang, intends exactly that. If Banks chooses to have a child, she already knows how (and how young!) that child will die. If she chooses to inform the baby's father, she knows in advance he will not be able to handle that level of premonition. In return for her brutal honesty, he will abandon her.
Two-time Nebula winner Ted Chiang first published "The Story of Your Life" in Starlight 2 back in 1998. In 2002, it appeared in Stories Of Your Life (and others), from Tor. The story is told in fragments, and addressed to Banks's daughter, who may or may not already be dead, depending on one's own position on the narrative's treacherous timeline.
Chiang works his magic via simple, direct prose, unfussy and unadorned. I confess that I yearned for a more gorgeous rendering (I've just read two Anthony Doerr novels, back-to-back), but I understand and support the method underlying the madness. Without resorting to actual equations, Chiang dares what Hollywood does not, and that's a firm reliance on science, both physical and linguistic. Fermat pays a necessary visit, as does semiology. I had to stop, twice, to be certain I understood the exact meaning of "teleology" as it applies to the behavior of light waves. To cover this ground, to stay clear-eyed and discernible, simplicity becomes a literary survival tactic.
If this seems odd given that our narrator is a linguist, consider the proposition that language's primary purpose is the communication and transmission of ideas. Clarity must win the day over décor and style, and Chiang makes sure Banks narrates accordingly, step by cautious step.
The story, then, serves as a philosophical musing, and remains essentially hermetic. It contains not a hint of the film's expansive global conflicts, or even its opposite, global harmony. Other nations, with or without competing aims, don't exist. All that extra rigmarole, all the movie's last-minute bustle, never troubles the water of Chiang's Banks, whose troubles all lie closer to home.
For the better, I suspect. Or suspected. Before. Though perhaps, now that I think about it, I'll think that thought later on.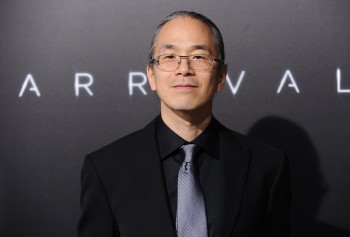 Such are the conundrums inherent in reviewing a work that unpacks time, that asks us to consider the possibility that Newtonian determinism really is the law of the universe. How would we behave, if we could perceive the destination––the teleology––of our supposedly free actions? How might we interact with those less perceptive than ourselves?
As Chiang writes in "The Story of Your Life," "From the beginning I knew my destination, and I chose my route accordingly. But am I working toward an extreme of joy, or of pain? Will I achieve a minimum, or a maximum?"
That he asks these questions through the dramatic lens of first contact, and that he then explores them through the fleeting, frustrating, magical journey of child-rearing, is what makes the results exceptional.
As Greg Bear writes on the book's cover, "You won't know SF if you don't read Ted Chiang." Possibly this is true, though the legions of writers, SF and otherwise, that I haven't read, frightens me daily. This much, at least: reading Chiang reminds me of why I promote the genre fantastic, and why I insist to doubters that they give this field its due.
"Your father is about to ask me the question…"
Onward.
---
Mark Rigney has published In the Wake Of Sister Blue along with three stories in the Black Gate Online Fiction library: "The Trade," "The Find," and "The Keystone." Tangent called the tales "Reminiscent of the old sword & sorcery classics… once I started reading, I couldn't stop. I highly recommend the complete trilogy."
Away from Black Gate, he is the author of the supernatural quartet, The Skates, Sleeping Bear, Check-Out Time, and Bonesy, all of which are now out of print, thanks to the demise of Samhain Publishing. (He is working to correct this injustice as fast as humanly possible.) His short fiction has been nominated for a Pushcart Prize and has appeared in Lightspeed, Unlikely Story, Betwixt, Black Static, The Best of the Bellevue Literary Review, Realms of Fantasy, Witness, The Beloit Fiction Journal, Talebones, Not One Of Us, Andromeda Spaceways Inflight Magazine, Lady Churchill's Rosebud Wristlet and many more. His author's page at Goodreads can be found here, and his website is markrigney.net.