New Treasures: Clarkesworld: Year Seven, edited by Neil Clarke and Sean Wallace
New Treasures: Clarkesworld: Year Seven, edited by Neil Clarke and Sean Wallace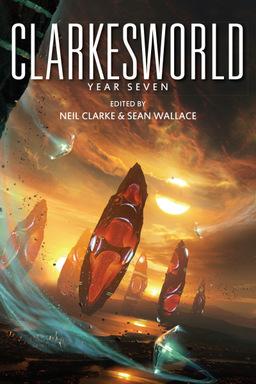 These annual Clarkesworld anthologies are a tremendous bargain. The individual magazines are $3.99 each, but these volumes collect all the original fiction for a full 12 months in a handsome package for just $16.99.
If you haven't tried Clarkesworld, you're missing out on one of the most vibrant and celebrated SF and fantasy magazines on the market. It is a three-time winner of the Hugo Award for Best Semiprozine, and in 2013 it received more Hugo nominations for short fiction than all the leading print magazines (Asimov's, Analog, and The Magazine of Fantasy & Science Fiction) combined. Last November the magazine was awarded a World Fantasy Award.
Clarkesworld Year Seven collects original fiction from many of the most exciting writers on the market, including Genevieve Valentine, Aliette de Bodard, James Patrick Kelly, E. Catherine Tobler, E. Lily Yu, and many others.
The book also serves as a fund-raiser for the magazine, and every purchase helps support one of the finest magazines out there.
This year's edition contains a whopping 36 stories. Here's the complete Table of Contents.
Introduction by Neil Clarke
"The Weight of a Blessing" by Aliette de Bodard
"The Urashima Effect" by E. Lily Yu
'The Battle of Candle Arc" by Yoon Ha Lee
"A Bead of Jasper, Four Small Stones" by Genevieve Valentine
"(To See the Other) Whole Against the Sky" by E. Catherine Tobler
"The Last Survivor of the Great Sexbot Revolution" by A.C. Wise
"Gravity" by Erzebet YellowBoy
"Vacant Spaces" by Greg Kurzawa
"Tachy Psyche" by Andy Dudak
"Pockets Full of Stones" by Vajra Chandrasekera
"Across the Terminator" by David Tallerman
"Your Final Apocalypse" by Sandra McDonald
"Shepherds" by Greg Kurzawa
"Soulcatcher" by James Patrick Kelly
"Cry of the Kharchal" by Vandana Singh
"England under the White Witch" by Theodora Goss
"Aquatica" by Maggie Clark
"Melt With You" by Emily C. Skaftun
"Driftings" by Ian McDonald
"Everything Must Go" by Brooke Wonders
"Sweet Subtleties" by Lisa L Hannett
"The Wanderers" by Bonnie Jo Stufflebeam
"Variations on Bluebeard and Dalton's Law Along the Event Horizon" by Helena Bell
"I Tell Thee All, I Can No More" by Sunny Moraine
"This is Why We Jump" by Jacob Clifton
"Free-Fall" by Graham Templeton
"No Portraits on the Sky" by Kali Wallace
"The Wisdom of Ants" by Thoraiya Dyer
"One Flesh" by Mark Bourne and Elizabeth Bourne
"Found" by Alex Dally MacFarlane
"Mar Pacifico" by Greg Mellor
"86, 87, 88, 89" by Genevieve Valentine
"(R + D) /I = M" by E. Catherine Tobler
"Annex" by Benjanun Sriduangkaew
"The Promise of Space" by James Patrick Kelly
"Effigy Nights" by Yoon Ha Lee
About the Authors
Clarkesworld Census
About Clarkesworld
Back in December we covered last year's volume, Clarkesworld: Year Six, and you can check out the most recent issue the magazine, Clarkesworld 102, here.
Clarkesworld: Year Seven was edited by Neil Clarke and Sean Wallace and published by Wyrm Publishing on March 23, 2015. It is 406 pages, priced at $16.99 in paperback. No word yet on a digital edition. The cover art is by Alexandru Popescu. See complete details at Neil Clarke's blog.
See all of our recent New Treasures here.