Gygax Magazine #5 Now Available
Gygax Magazine #5 Now Available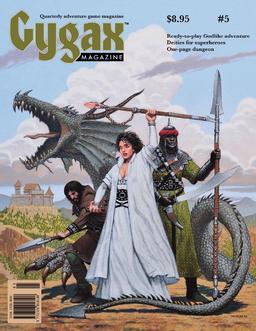 The last time I visited a local gaming shop (the excellent Games Plus in Mount Prospect, IL), I noticed that the latest issue of Gygax magazine had hit the stands. Apparently it had been out for several weeks… obviously, I need to get to the game store more often.
Well, better late than never. As usual, this issue comes packed with lots of great articles, including Leomund's Secure Shelter by Lenard Lakofka, Munchkin Tips & Tricks by Andrew Hackard, Bottom of the Pile by Tim Kask, and Zen and the Art of Game Mastery by Michael E. Shea. There's also a One Page Dungeon by Will Doyle, with commentary by Gygax editor Jayson Elliot.
Every issue of Gygax has a fold-out adventure, and this time it's Fox Hunt, an adventure for the Godlike RPG by Shane Ivey. Comics this issue include Full Frontal Nerdity by Aaron Williams, and Order of the Stick by Rich Burlew.
We last covered Gygax magazine with issue #4, released last summer. It's officially a quarterly, but realistically TSR produces roughly two issues/year, and this one reportedly shipped last month.
Gygax #5 is edited by Jayson Elliot and published by TSR. It is 68 pages, priced at $8.95 for the print edition, or $4.99 for a watermarked PDF available through DriveThruRPG. Cover art by Walter Velez. A one year subscription (4 issues) is $35. Order copies directly from the website.