Gygax Magazine #4 Now Available
Gygax Magazine #4 Now Available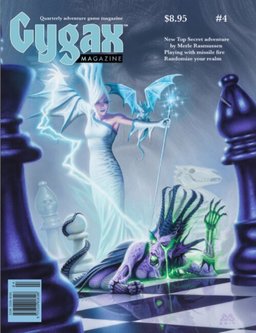 It's been terrific to see Gygax Magazine maintain a regular quarterly schedule, especially after an occasionally bumpy start last year. 2014 has been much better — two issues so far, and we're not even halfway through the year.
That's not all that's terrific about Gygax. Under Art Director R. Scott Taylor (author, editor, and BG blogger extraordinaire), the art in the magazine has really blossomed. The cover for issue 4 is by none other than my fellow Ottawa native Denis Beauvais, another entry in the famous chess series he did for Dragon magazine in the early 80s. And a fabulous piece it is, too (click on the image at left for a mega-sized version).
The interior art is just as lush, and it's produced by folks who should be familiar to Black Gate readers, including the talented Chuck Lukacs, who illustrated every one of James Enge's Morlock the Maker stories for us (including his now iconic portrait for "Turn up This Crooked Way.") Other artists you may recognize include Russ Nicholson (Fiend Folio, Fighting Fantasy), Chris White, Michael Wilson, and many others.
The non-fiction is just as captivating as the art. It includes a new Top Secret adventure by the game's creator, Merle Rasmussen, an intriguing article on Vancian verbalizations for 13th Age by Ed Greenwood, Leomund's Secure Shelter by Lenard Lakofka, The Necromancer's Cookbook by Dave Olson, an article on Djinn by RuneQuest 6 Lawrence Whitaker & Pete Nash, and much more. There's also comics from Aaron Williams (Full Frontal Nerdity) and Rich Burlew (The Order of the Stick.)
Gygax Magazine #4 is edited by Jayson Elliot and published by TSR.  It is 70 pages (including a gatefold map), priced at $8.95. It's currently available in PDF format, and in print format before the end of the month. Order directly from the website. We last covered Gygax Magazine with Issue #3.