The Public Life of Sherlock Holmes: New Treasures: The Game's Afoot (Wordsworth)
The Public Life of Sherlock Holmes: New Treasures: The Game's Afoot (Wordsworth)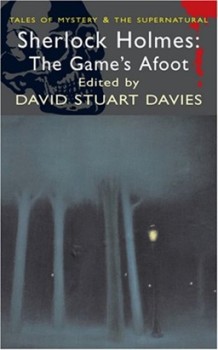 Our fearless leader, John O'Neill, has been reviewing entries in Wordsworth's Tales of Mystery & The Supernatural series: with emphasis on the supernatural end. So…I figured I'd look at one of the mystery entries.
Sherlock Holmes: The Game's Afoot, offers twenty new tales of the world's first private consulting detective. The real mystery is why I couldn't find a single reference to this book anywhere on Wordsworth's website. Curious, indeed.
Sherlockian pastiches are meant to emulate the style of Sir Arthur Conan Doyle's original tales. As opposed to parodies, which spoof Holmes.
With the explosion of self-publishing, the quality of pastiches has come to vary wildly. There is quite a bit of dreck out there and the days of buying every Holmes story listed on Amazon are long gone.
The eleven authors who contributed to this collection worked hard to create the same kind of atmosphere Conan Doyle did. David Stuart Davies is the editor of this Wordsworth series and is a well-respected Sherlockian. He includes three of his tales. June Thomson, John Hall, Dennis O. Smith … there are some well-respected Sherlockian names in this collection.
One title that jumps out immediately is Christopher Sequeira's "The Return of the Sussex Vampire." Relatives of Bob Ferguson are dealing with another vampire-type problem.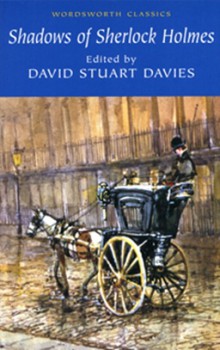 Perhaps my favorite was Mark Valentine's "The Adventure of the Green Skull," which frames the story with the ubiquitous match girl of Victorian London. Valentine edited a couple of the other entries in this series of anthologies, including this one reviewed by John.
I was particularly pleased to discover Matthew Elliot's "The Adventure of the Hanging Tyrant." He and I were fellow columnists for Sherlock Magazine when David Stuart Davies was the editor. In this tale, he has written a sequel to Doyle's "The Adventure of Wisteria Lodge." That is the only sequel to that story which I have read and I'd buy this book for that one alone.
The book also contains two Christmas tales, which are always nice to read during the season.
As with every collection of Holmes pastiches, not every one of these twenty stories is a home run. A few aren't even a double. But on the whole, I enjoyed this anthology and have read it more than once.
And since we're mentioning Wordsworth, there's another anthology edited by David Stuart Davies that you might be interested in: The Shadows of Sherlock Holmes. It is a collection of mystery stories written around the same time as Doyle's Holmes tales.
There were a lot of mystery authors in Victorian and Edwardian England who wanted to be as successful as Doyle was. Shadows has stories by Edgar Allen Poe, Guy Boothby, Jacques Futrelle (who perished in the Titanic disaster), E. W. Hornung (he married Doyle's sister), Grant Allen, and more.
We've covered ten volumes in the Wordsworth Tales of Mystery And The Supernatural series so far:
The Crimson Blind and Other Stories by H.D. Everett
Couching at the Door by D.K. Broster
The Casebook of Carnacki The Ghost Finder by William Hope Hodgson
The Beast with Five Fingers by W.F. Harvey
The Power of Darkness — Tales of Terror, by Edith Nesbit
Alice and Claude Askew's Aylmer Vance, The Ghost-Seer
The Black Veil & Other Tales of Supernatural Sleuths edited by Mark Valentine
Voodoo Tales: The Ghost Stories of Henry S. Whitehead
Sherlock Holmes: The Game's Afoot, edited by David Stuart Davies
The Casebook of Sexton Blake, edited by David Stuart Davies
---
Bob Byrne founded www.SolarPons.com, the only website dedicated to the 'Sherlock Holmes of Praed Street' and blogs about Holmes and other mystery matters at Almost Holmes.