New Treasures: Clarkesworld: Year Six edited by Neil Clarke and Sean Wallace
New Treasures: Clarkesworld: Year Six edited by Neil Clarke and Sean Wallace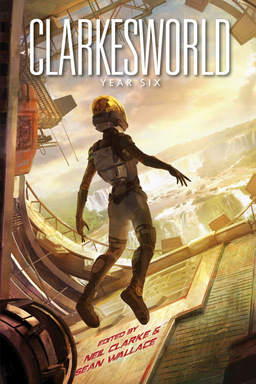 Clarkesworld Magazine is one of the finest online outlets for science fiction and fantasy. Edited by Neil Clarke and Sean Wallace, it has been published monthly since October 2006. Fiction from the magazine has been nominated for countless awards — including the Bram Stoker, Shirley Jackson, WSFA Small Press, World Fantasy, Hugo, and Nebula — and the magazine has been nominated for the Chesley, Hugo, World Fantasy, Locus, and Nebula awards. It won the 2010, 2011, and 2013 Hugo Award for Best Semiprozine, the 2014 British Fantasy Award for Best Magazine, and the 2014 World Fantasy Special Award in the Non-Professional category.
Every year, the editors gather all the online fiction from the previous year into a single generous volume and this year is the biggest yet: 427 pages, collecting all 34 stories published in 2013, from authors like Aliette de Bodard, Robert Reed, Mari Ness, Erik Amundsen, Catherynne M. Valente, Carrie Vaughn, Suzanne Church, Kij Johnson, Sofia Samatar, Lavie Tidhar, Ken Liu, and many others.
The book also serves as a fund-raiser for the magazine (which is available free), and every purchase helps support one of the finest magazines out there. In his introduction to this year's volume, Neil says:
In July of 2012, I had a "widow-maker" heart attack that nearly killed me. Afterwards, I took a long, hard look at my life and started pruning away the unnecessary…

Since then Clarkesworld has slowly, but steadily, grown. I can't quit the day job just yet, but thanks to people like you, I'm even more confident it will happen. By purchasing this book, subscribing to Clarkesworld, writing a review, or supporting us at Patreon, you are helping me realize that dream. Thank you! It means a lot.
Clarkesworld: Year Six was edited by Neil Clarke and Sean Wallace and published by Wyrm Publishing on May 24, 2014. It is 427 pages, priced at $16.95 in trade paperback, and $6.99 for the digital version. I bought my copy in the Dealers Room at the World Fantasy Convention. Visit the Clarkesworld website here or subscribe for just $2.99/month.