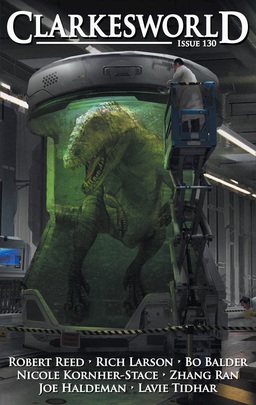 In his editorial this issue, Neil Clarke reflects on the heart attack that nearly killed him five years ago.
When the universe calls, you have no choice but to listen. Five years ago this month, it sent me a message in the form of a near-fatal heart attack. It was the sort of thing that not only caught me off guard, but my family, friends, and doctors as well. As I lay there in the critical care unit, the weight of what happened hit me hard, providing an odd sort of clarity and a revised outlook on life. I had some choices to make, a lot of alone time before visitors to think about it.

Over the years, I've blogged and editorialized many of the details of that time, but today is about celebrating an anniversary and pushing forward. Not only did I survive, but I learned a lot of valuable lessons. It was a crappy way to get the message, but I'm very glad I did. At the end of the first year, I took back the anniversary by returning to Readercon — the scene of the crime — and successfully ending the Kickstarter campaign for Upgraded, my first anthology.

Five years later, I have a year's best series and several more anthologies, watched Clarkesworld turn ten, and made it to my fiftieth birthday. Earlier this year and thanks to my wife's return to the workforce, I was able to quit the day job and have the time to pursue my dream of becoming a full-time editor. Technically, I am full-time now, but the goal was always to be making a full-time income — with healthcare covered — and I'm still working towards that.
Speaking as someone who still believes SF magazines are the heart of the field, I'm enormously grateful Neil is still with us.
The July Clarkesworld contains original fiction from Zhang Ran, Rich Larson, Robert Reed, Bo Balder, and Nicole Kornher-Stace, plus reprints by Joe Haldeman and Lavie Tidhar. The cover, "Genetics Lab," is by Eddie Mendoza.
Nicole Kornher-Stace, author of Archivist Wasp, writes that her tale is "the first short story I've written in approximately forever. It's also the first tie-in story I've written in the Archivist Wasp world. More of those to come."
---