June 2017 Clarkesworld Now Available
June 2017 Clarkesworld Now Available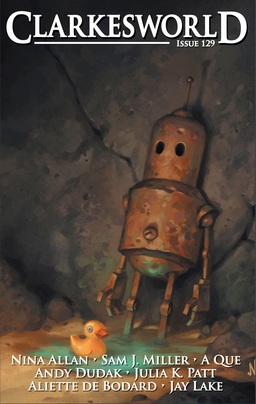 Over at Tangent Online, Rebecca DeVendra reviews the riches at hand in the latest Clarkesworld.
Andy Dudak writes the mind-bending tale "Fool's Cap." There [were] points when I felt like my brain had been melted and hung over a clothesline. It was great. Most stories that try to write about time-loops and parallel universes fall into many paradoxical traps: this is the nature of the thing. Dudak handles these ingredients like a master chef. The story follows Beadith, a Tribunal agent chasing a killer, and she gets stranded on an island with him. Weak and helpless, he has given himself over to a sentient moss that affixes itself to his head and shows him several versions of himself. Beadith communes with the moss as well, and starts to converse with other versions of herself…

"Neptune's Trident" by Nina Allan is a dark post-apocalyptic tale shot through with tension that never really crescendos. Allan's sybaritic prose beguiled me, so much so that when I got to the end of the story I felt as if I'd had an odd dream, filled with a dread I couldn't define. The story tells of an invasion by nonhuman beings that work through infection, making people sick. They are called "flukes" in the story and all sorts of political misfortunes befall them, from internment camps to executions. Allan's world is full of suspicion and dread, and I admit I felt a bit flensed after being immersed in it.
Read her complete review here.
The June Clarkesworld contains original fiction from Andy Dudak, Julia K. Patt, Nina Allan, Sam J. Miller, and A Que, plus reprints from Jay Lake and Aliette de Bodard.
The cover, "Sea Change," is by Matt Dixon.
Here's the complete Table of Contents.
"Fool's Cap," Andy Dudak
"My Dear, Like the Sky and Stars and Sun," Julia K. Patt
"Neptune's Trident," Nina Allan
"The Ways Out," Sam J. Miller
"An Account of the Sky Whales," A Que
"Human Error," Jay Lake (from Interzone, January/February 2010)
"The Waiting Stars," Aliette de Bodard (from The Other Half of the Sky, 2013)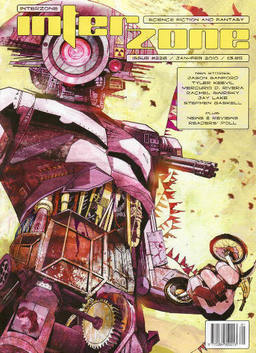 The non-fiction is:
How to Injure Characters Without Killing Them, S. E. Jones
Astounding Scientists and Alternate History: A Conversation with Gregory Benford, Chris Urie
Another Word: The Depth of Sci-Fi Funk in the '70s, Jason Heller
Editor's Desk: Recharging My Batteries, Neil Clarke
Podcasts:
"Fool's Cap," Andy Dudak, read by Kate Baker
"My Dear, Like the Sky and Stars and Sun," Julia K. Patt, read by Kate Baker
"Neptune's Trident," Nina Allan, read by Kate Baker
"The Ways Out," Sam J. Miller, read by Kate Baker
See the complete issue here.
Clarkesworld is edited by Neil Clarke and Sean Wallace, and published by Wyrm Publishing. The contents are available for free online; individual issues can be purchased for $3.99, and monthly subscriptions are $2.99/month. A 6-month sub is $17.94, and the annual price is $35.88. Learn more and order individual issues at the magazine's website.
We last covered Clarkesworld with Issue 128.
Our June Magazine Rack is here. See all of our recent fantasy magazine coverage here.