Modular: James Sutter Fields Some Starfinder RPG Questions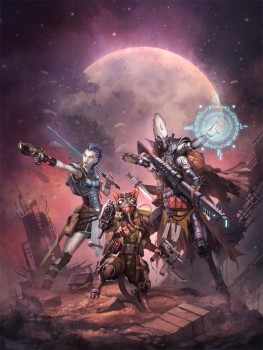 Paizo Publishing is a major force in the fantasy gaming industry, having taken the core mechanics of Dungeons & Dragons edition 3.5 and transforming it into the Pathfinder RPG, an impressive stand-alone game system in its own right. Beyond the core tabletop roleplaying game, Pathfinder has also diversified out into the Pathfinder Tales series of novels, the various versions of the Pathfinder Adventure Card Game (including a digital edition), audio dramas, comic books, and ever-expanding other platforms and formats.
But ultimately the Pathfinder game is set in a fantasy adventure world, and retains the feel of the Dungeons & Dragons adventures from which it was derived.
Last fall, Paizo announced a new game system that would take them into the distant future with their Starfinder RPG, and would set a far more distinctive course. This is a game that will take the basic Pathfinder mechanics, but translate them into a far future space opera style of setting.
Last fall at GenCon, I spoke with the Creative Director of Starfinder, long-time Black Gate friend James L. Sutter. In addition to being the author of a couple of great Pathfinder Tales novels, Death's Heretic and The Redemption Engine, James is also the author of the recent Pathfinder Campaign Setting: The First World, Realm of the Fey (Amazon, Paizo), a supplement that explores a portion of the Pathfinder setting that I have long been hoping would get some additional attention.
Between our GenCon discussion and subsequent information, such as a great GameInformer interview, we got new information about the new classes and races, the backward compatibility with Pathfinder, and some hints about what to expect from starship combat. Everything about this game is looking and sounding great.
Toward the end of January, I ran into James again at the Detroit convention ConFusion, and asked him if I could buy him a beer and riddle him with some additional questions.
He said no.
Instead, he asked if I could e-mail him the questions, because he was heavily booked over the weekend. Below is our exchange, which I hope sheds some some new light on what to expect from the Starfinder RPG, due out from Paizo this August (and available for preorder now).