Future Treasures: The Vorrh Book II – The Erstwhile by Brian Catling
Future Treasures: The Vorrh Book II – The Erstwhile by Brian Catling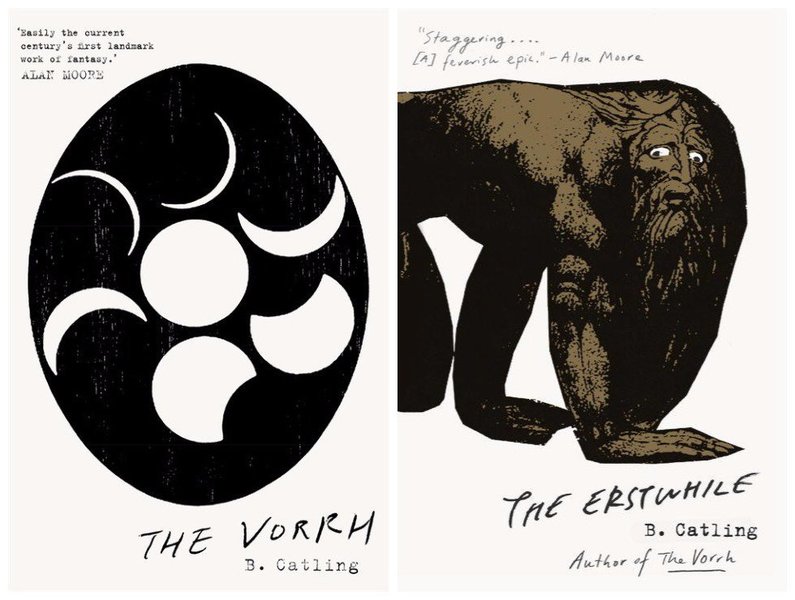 Early last year, Matthew David Surridge reviewed the Vintage trade paperback edition of The Vorrh here at Black Gate, calling it:
A powerful, fascinating book that defied easy categorization; epic fantasy or epic horror, magic realism or magic surrealism, it seemed bigger and stranger than whatever one might think to call it. Set mostly in Africa and mostly in the years after World War I, it deals with a forest called the Vorrh, where reality and time and logic become confused. A hunter tries to cross the forest, another man tries to stop him, yet another man tries to stop the second. Meanwhile, in a colonial German city that exists inside the forest, a young cyclops is educated by peculiar automata…
Vintage has announced the impending arrival of the sequel, The Erstwhile, which will be released in trade paperback next month.
Here's the description:
In London and Germany, strange beings are reanimating themselves. They are the Erstwhile, the angels that failed to protect the Tree of Knowledge, and their reawakening will have major consequences. In Africa, the colonial town of Essenwald has fallen into disarray because the timber workforce has disappeared into the Vorrh. Now a team of specialists are dispatched to find them. Led by Ishmael, the former cyclops, they enter the forest, but the Vorrh will not give them back so easily. To make matters worse, an ancient guardian of the forest has plans for Ishmael and his crew. Meanwhile a child of mixed race has been found abandoned in a remote cottage. Her origins are unknown, but she has powers beyond her own understanding. Conflict is coming, as the old and new, human and inhuman are set on a collision course. Once again blending the real and the imagined, The Erstwhile brings historical figures such as William Blake and places such as the Bedlam Asylum, as well as ingenious creations such as The Kin (a family of robots) together to create unforgettable novel of births and burials, excavations and disappearances.
The Vorrh was originally published in hardcover from UK small press Honest Publishing in 2012, and reprinted in trade paperback in a substantially edited version by Vintage in 2015. Matthew compared both versions in detail for us in his article "The Vorrh, Redux" last year.
Our prior coverage of The Vorrh includes:
Brian Catling and The Vorrh, by Matthew David Surridge
The Vorrh, Redux, by Matthew David Surridge
New Treasures: The Vorrh by B. Catling
The Erstwhile will be published by Vintage on March 7, 2017. It is 480 pages, priced at $16.95 in trade paperback and $11.99 for the digital edition.
See all our coverage of the best upcoming fantasy here.