New Treasures: The Vorrh by B. Catling
New Treasures: The Vorrh by B. Catling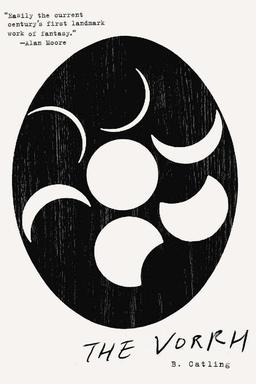 I first heard of B. Catling's second novel The Vorrh when Matthew David Surridge reviewed it for us two years ago, saying:
It's a powerful book, precise and unexpected in its use of language and its plot construction, a dizzying and straight-faced blend of history and the unreal… It's mostly set in the years after World War One, but although there are scenes with peculiar Victorian technology and bakelite automata, it mostly avoids any feel of either steampunk or such recently-coined retrofantasies as dieselpunk or decopunk… while one can say that the Vorrh of Catling's novel — a massive forest in which time is confused and myths wander — recalls Robert Holdstock's Mythago Wood, the feel is something quite different.
The book has just been reprinted in trade paperback by Vintage, with an impressive range of cover blurbs, including a stellar endorsement by Alan Moore on the front cover:
Easily the current century's first landmark work of fantasy.
Sadly, Moore's introduction to the hardcover edition is missing here, but you can't have everything. (The hardcover, out of print for scarcely a year, already commands ridiculous prices on the collector's market, so I'm just glad to finally have a copy.)
Here's one more blurb for good measure:
Brian Catling is simply a genius. His writing is so extraordinary it hurts, it makes me realize how little imagination I have.
— Terry Gilliam
When the director of Brazil and The Adventures of Baron Munchausen praises an author's imagination that highly, it's usually worth a look.
Here's the synopsis from the back of the book:
Outside the colonial town of Essenwald lies the Vorrh, a vast — perhaps endless — forest. Sentient and magical, a place of demons and angels, of warriors and priests, the Vorrh bends time and wipes memory. Legend holds that the Garden of Eden still exists at its heart. Now, a renegade foreign soldier aims to be the first human to traverse its expanse. Armed with only a bow, he begins his journey. But some fear the consequences of his mission, so a native marksman has been chosen to stop him. Around these adversaries swirls a remarkable cast of characters, including a tragically curious young girl, a Cyclops raised by robots, as well as such historical figures as proto-surrealist Raymond Roussel and pioneering photographer Edward Muybridge. Fact and fictional blend, the hunter will become the hunted, and everyone's fate hangs in the balance — in the Vorrh.
The Vorrh was published by Vintage Books on April 28, 2015. It is 500 pages, with full-color endpapers, and priced at $15.95 in trade paperback or $7.99 for the digital edition. The sparse cover design is by Pablo Delcan. Get more details, or read an excerpt, at the Vintage website.
See all of our recent New Treasures here.