The Public Life of Sherlock Holmes: Mister Bean as Simeonon's Maigret?
The Public Life of Sherlock Holmes: Mister Bean as Simeonon's Maigret?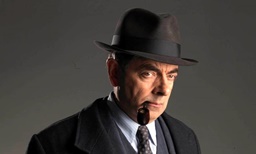 Georges Simenon wrote seventy-six novels and twenty-eight short stories about French police commissionaire Jules Maigret (May-gray) between 1932 and 1973. Maigret's career paralleled that of Rex Stout's Nero Wolfe, who appeared in thirty-three novels and thirty-three novellas/short stories from 1934 to 1975.
There have been many film and television adaptations of Maigret in various countries over the decades. Rupert Davies starred in a popular British television series in the sixties and Michael Gambon played the policeman in a Granada series in the eighties. Now, I've never read a Maigret story or seen any of the films or television shows, except for the two I'm going to talk about in this post. So, I don't have a frame of reference for the two new films, other than the actual movies themselves. They may be nothing like the original character, in the vein of Benedict Cumberbatch's Sherlock Holmes; or they could be spot on: though that seems unlikely.
A British company cast Rowan Atkinson as Maigret and filmed a pair of television movies that were aired in 2016: Maigret Sets a Trap and Maigret's Dead Man.  Two more are on the way: Night at the Crossroads and Maigret in Montmarte.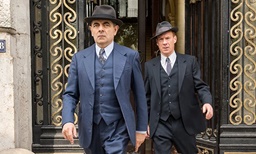 Atkinson is famous as the rubber-faced, non-talkative Mister Bean. Along with that series, I really enjoyed him as James Bond wannabe in Johnny English. There's nothing funny about Atkinson in these movies. And that's actually a part of the problem. But first…
All four films were shot in Hungary. Which might not be your first thought as a stand-in for Paris. But I think the visuals are the greatest asset of this series. I think it's set in the late sixties but it does an excellent job of giving that forties noir feel. Trench coats and fedoras, poorly lit streets, citizens wandering all hours of the night: this is a treat to look at. The soundtrack, with the evocative opening song for the first film, goes very well with the look of the show.
No surprise, Rowan Atkinson's Maigret is clearly the center of the show. I think that the biggest flaw in his performance is that it is so dour and bland. He shows almost no emotion for the entirety of the first film and most of the second. Even when he delivers a self-effacing quip (though they're few and far between), there is no sign of humor. He mostly just looks depressed or serious, and bites on the pipe he often smokes.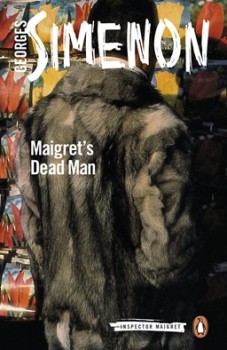 Working on murder cases, you don't expect him to be dancing around. But a little bit of life would help the performance. Perhaps even a touch more in the scenes with his wife, who he clearly adores.  She is played by Lucy Cohu and she conveys more emotion with one silent look than Atkinson does in a movie's worth of dialogue. She is excellent in the role. Otherwise, it's not a bad performance for Atkinson and almost certainly better than those who instantly decided Mister Bean couldn't pull off Maigret thought he could deliver.
Maigret relies on two underlings throughout. Shaun Dingwall, who looks older than his actual 43, plays Inspector Janvier. Leo Staar, thirty and quite a bit younger looking than Dingwall, is Inspector LaPointe. They are Maigret's guys (though Staar is not in the third film), with Maigret relying on Janvier as his 'first choice' throughout and LaPointe right there as needed. It's Janvier that provides the occasional quip, not Maigret. They are solid supporting actors and perform well.
Maigret's immediate superior is played by Aidan McArdle, the despicable Lord Loxley in Mister Selfridge. He backs Maigret to the extent practical to maintain his own position. It's not a major part, really.
In Maigret Sets a Trap, a serial killer, preying upon young women late at night, is loose in Paris. Maigret is under pressure, professionally and socially, to catch the killer. We don't meet the prime suspect (David Dawson, who played the one-eared newspaper man in Ripper Street) until half-way through the movie and it's a relatively straightforward affair.
The plot is a little more complex in Maigret's Dead Man, with a murder in town and a series of countryside massacres coming together. In a scene where he threatens a landlord and another where he reassures a young girl who witnessed one of the farmhouse killings, Atkinson shows a bit of emotion and it's a step in the right direction for his portrayal. I hope we see a bit more of that sort of thing. Of the two films, I prefer the second one.
These movies aren't bad and are worth watching. But both films are a bit too slow and don't quite grab the viewer. They don't set a standard for Maigret. Atkinson does a workmanlike job, but he's too stiff. I'm not looking for comedy, but a wider range of emotions would really improve his performance.
But all in all, I liked both movies enough to recommend them and I really do like the visual feel of them.
---
You can read Bob Byrne's 'The Public Life of Sherlock Holmes' column here at Black Gate every Monday morning.
He founded www.SolarPons.com, the only website dedicated to the 'Sherlock Holmes of Praed Street' and blogs about Holmes and other mystery matters at Almost Holmes.
He has contributed stories to The MX Book of New Sherlock Holmes Stories – Parts III, IV and V (and the upcoming VI).