The Top 50 Black Gate Posts in October
The Top 50 Black Gate Posts in October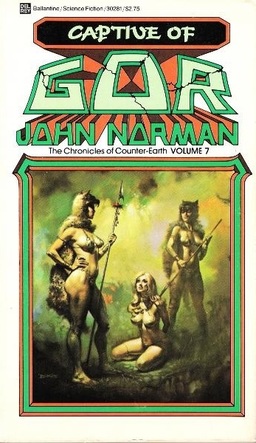 Here at Black Gate, we take great pride in our meticulous research, passionate reporting, and thoughtful analysis, especially on fantasy writers who are being criminally overlooked.
None of that stuff gets read, of course. What does get read? Articles like Nick Ozment's "An Experiment in Gor: What Are John Norman's Books About, Really?", the runaway most popular post at Black Gate last month — by a wide margin. We love our readers, but boy, are you ever predictable. (Also: Ozment! Five more Gor articles, on my desk by Friday. Chop chop!)
Those of you who weren't reading Nick's Gor piece were enjoying Sean McLachlan's ghost writing expose, "The New Pulp Era: Ghostwriting, Ebooks, and the Economics of Now," and Fletcher Vredenburgh's essay on "Horror and Swords & Sorcery." Rounding out the Top Five were Violette Malan's "My Top Ten Novel-to-Movie Adaptations," and Bob Byrne's gaming post "Modular: Eye of the Beholder – The Art of Dungeons & Dragons."
Our report on winning our first World Fantasy Award came in at #6, followed by Bob's Modular piece on the new Swords & Wizardry Kickstarter. Coming in at #8 was Harold Page's review of Jason Thompson's graphic novel The Dream-Quest of the Unknown Kadath & Other Stories.
Closing out the Top Ten were John DeNardo and his Savory Selection of Science Fiction and Fantasy for October, and an entry in Bob Byrne's other popular column series, "The Public Life of Sherlock Holmes: Milton F. Perry's 'Harry S. Truman, Sherlockian'."
The complete list of Top Articles for October follows. Below that, I've also broken out the most popular overall articles, online fiction, and blog categories for the month.
The Top 50 Black Gate posts in October were:
There were plenty of older articles popular last month as well. The 25 most popular blog posts written before October were:
The Top Black Gate Online Fiction features were:
The top categories last month were:
The Top 50 Black Gate blog posts in September are here, and you can see all 93 posts we made in the month of October here.