May 2016 Lightspeed Magazine Now Available
May 2016 Lightspeed Magazine Now Available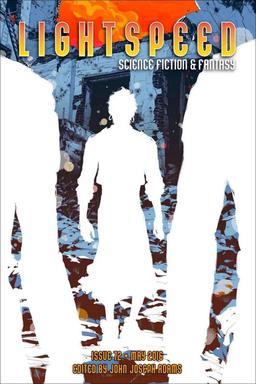 The complete May issue of Lightspeed is now yours to enjoy free online. The month offers new fantasy by Seanan McGuire and Wole Talabi, and fantasy reprints by Tim Pratt and Elizabeth Hand, plus original science fiction by An Owomoyela and Mari Ness, and SF reprints by Haris A. Durrani and Tora Greve.
It also features author spotlights, book reviews by Amal El-Mohtar, a movie review by Carrie Vaughn, and an interview with Charlie Jane Anders. The ebook also includes a reprint of Hugh Howey's "The Plagiarist" and a new excerpt Paolo Bacigalupi's The Water Knife, out in trade paperback this month from Vintage Books.
The cover artist this issue is Goñi Montes. Here's the complete contents for the May issue.
Fantasy
"The Jaws That Bite, The Claws That Catch" by Seanan McGuire
Mist flowed through the Tulgey Wood like treacle, slow and thick and unyielding. Squeaks and muffled chitters came from the underbrush as rabbits, foxes, and adolescent toves that hadn't sensed the weather changing were caught and drowned in the gray-white mire. It would clear by noon, burnt off by the sun, and then the scavengers would come, making a feast of the small mist-struck creatures.

"North Over Empty Space" by Tim Pratt (Originally published at Patreon.com, 2015)
Sigmund came back to himself after a gray interval of unknown time, hunched in the yellow vinyl booth of an appallingly bright diner, his head aching from the night's exertions. His partner Carlsbad sat across from him, drawing no attention at all, which struck Sigmund as strange even in his exhausted state. Carlsbad was a human-shaped figure, but he was unclothed, his face was entirely featureless, and he was composed of a viscous-looking black substance instead of flesh.
"Wednesday's Story" by Wole Talabi
My story has a strange shape to it. It has a beginning and middle and, of course, I need not tell you that it has an end because it is the nature of all things to end, especially stories. But this story . . . well, it bunches up in places and twists upon itself in ways that no good story should. The sharpness of its arcs flare and wane in unexpected places because it is a story made of other stories..

"Hungerford Bridge" by Elizabeth Hand (from Conjunctions 52, 2009)
I hadn't heard from Miles for several months, when he wrote if I wanted to get together for lunch. Of course I did, and several days later I met him at a noisy, cheerful restaurant at South Bank. It was early February, London still somewhat dazed by the heavy snowfall that had recently paralyzed the city. The Thames seemed a river of lead. A black skim of ice made the sidewalks treacherous.
Science Fiction
"Tethered" by Haris A. Durrani (from Analog, 2013)
In 1978, NASA astrophysicist Donald J. Kessler predicted that the quantity of artificial satellites orbiting Earth would reach a critical limit, after which collisions became inevitable. One satellite would strike another at the dangerous speeds of Earth orbit—seven, eight kilometers per second—and the two would break into hundreds of pieces. These pieces would in turn collide with other satellites, generating a chain reaction of impact and debris.

"Deathlight" by Mari Ness
Els wondered again if she should start recording her final words. If she could start recording her final words. There was cold, and then there was cold, and the Tolstar was cold. Dun had shut off every heating system that wasn't absolutely needed to keep systems running outside of the main control room, and even that he left cold enough to let ice crystals form.

"The Philosopher's Stone" by Tora Greve (from Waiting for the Machines to Fall Asleep, 2015)
The row of horseless vehicles moved slowly along Kensington High Street. The green translucent leaves of Kensington Garden were colored red by the setting sun. The day had been unusually hot for this time of the year. Workers headed homewards now that the diminishing daylight no longer made it sensible to continue working. The row of horseless vehicles had come to a standstill.

"Three Points Masculine" by An Owomoyela
I was serving in Baxon just north of Hescher, guard-dogging a queue of first responders heading into the riot zones, and John caught my eye. Her beard caught my eye. Some troublemaker flaunting the rules, I thought, or a guy sneaking in under cover of audacity, thinking the Womens Volunteer Corps was a good place to get laid. If that was the case, he was looking to get roughed up, and it was my job to oblige.
Nonfiction
Editorial, May 2016 by John Joseph Adams
Review: Crouching Tiger, Hidden Dragon: Sword of Destiny by Carrie Vaughn
Book Reviews: May 2016 by Amal El-Mohtar
Interview: Charlie Jane Anders by The Geek's Guide to the Galaxy
We discussed Amal's new column, featuring reviews of Max Gladstone's Four Roads Cross, Nnedi Okorafor's Nebula-award winning Tor.com novella Binti, and Dominik Parisien's anthology Clockwork Canada, here.
Read the complete May issue of Lightspeed here.
Lightspeed is edited by John Joseph Adams. Most of the content is available free online; individual issues are available in multiple digital formats for $3.99. 6-month subscriptions are just $17.94 ($6 off the cover price), or $35.88 for 12 months ($12 off the cover price). Purchase copies and sample free content at the website.
We last covered Lightspeed with Issue 71, April 2016.
Check out Lightspeed's sister magazine Nightmare, also edited by John Joseph Adams.
See our May Fantasy Magazine Rack here, and all of our recent Magazine coverage here.