New Treasures: The Traitor Baru Cormorant by Seth Dickinson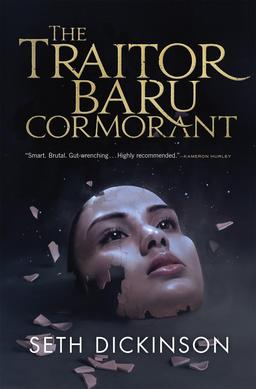 In her review for NPR, Black Gate blogger Amal El-Mohtar raves about Seth Dickinson's debut fantasy novel from Tor, the tale of a young woman from a conquered people who tries to transform a vast empire from within:
To read The Traitor Baru Cormorant is to sink inexorably into a book that should not be anywhere near as absorbing as it is — to realize that the white-knuckled grip with which you hold it was provoked by several consecutive pages of loans, taxes and commodity trading. It seems impossible that the economics of a fantasy world should be so viscerally riveting, but they are, and it's incredible: You think you're on solid ground right up until you feel that ground closing around your throat.

Literally breathtaking… Baru Cormorant as a character is magnificent. I found it impossible not to root for her even amid horrors of her making, to grieve with her and for her at various points, to clench my fists in her defense and in desperate need for her to stay whole. There is so much to admire and so much to mourn throughout the building tragedy of this novel… A crucial, necessary book ― a book that looks unflinchingly into the self-replicating virus of empire, asks the hardest questions, and dares to answer them.
Read the complete review here. We first covered the book here.
The Traitor Baru Cormorant was published by Tor Books on September 15, 2015. It is 400 pages, priced at $25.99 in hardcover, and $12.99 for the digital edition. The cover is by Sam Weber. Read an excerpt at Tor.com.