New Treasures: Shadows of Self by Brandon Sanderson
New Treasures: Shadows of Self by Brandon Sanderson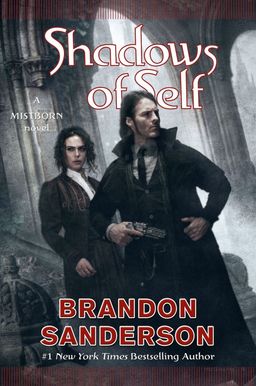 Two years ago, after the release of his novel The Rithmatist, I noted that Brandon Sanderson was one of the hardest-working writers in this industry. By my count, I put his production for 2013 at 2,046 pages of fiction — still less than his output for 2010, but who's counting.
It's 2015, and what the heck — let's count. Using Al von Ruff's Internet Science Fiction Database, I did a very rough tabulation of Sanderson's output over the last six years, considering fiction books only (no short stories or non-fiction).
| | |
| --- | --- |
| 2015 (4 books, so far) | 980 pages |
| 2014 (4 books) | 1,802 pages |
| 2013 (6 books) | 2,046 pages |
| 2012 (2 books) | 264 pages |
| 2011 (3 books) | 364 pages |
| 2010 (4 books) | 2,162 pages |
It's up and down, as you might expect. But for those counting along at home, that's 7,618 pages over six years, or 1,270 pages per year. That's pretty damned impressive.
Of course, we don't count success as a writer by raw output, but by quality. And there, too, Sanderson excels. In 2006 and 2007 he was nominated for the John W. Campbell award for best New Writer, and he has won the David Gemmell Legend Award twice, for The Way of Kings and Words of Radiance, the first two novels in his ambitious ten-volume series The Stormlight Archive. His 2013 novella The Emperor's Soul was nominated for the World Fantasy Award, and won the Hugo Award.
In 2006 Sanderson began the Mistborn trilogy with The Final Empire. In 2011 came the first of a new spin-off trilogy, The Alloy of Law (read our review here), which became a New York Times bestseller.
The newest volume, Shadows of Self, arrived from Tor on October 6th, bringing the total number of books in the series to five.
1. The Final Empire (2006)
2. The Well of Ascension (2007)
3. The Hero of Ages (2008)
4. The Alloy of Law (2011)
5. Shadows of Self (2015)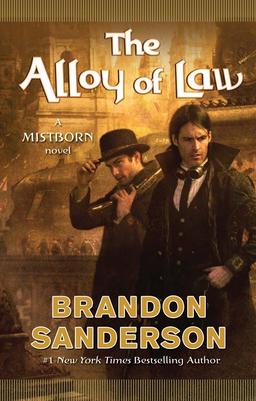 Here's the book description.
In his New York Times bestseller The Alloy of Law, the beginning of the second sequence in his massively popular Mistborn series, Brandon Sanderson showed us that you can take the lawman out of the Roughs, but you can't take the Roughs out of the lawman.

When family obligations force Waxillium Ladrian to forsake the frontier lands and return to the metropolis of his birth to take his place as head of a noble house, he little imagined that the skills acquired during twenty years in the dusty plains would be just as applicable in the big city. He soon learned that there, too, just being a talented Twinborn – one who can use both Allomancy and Feruchemy, the dominant magical modes on Scadrial – would not suffice.

Picking up the action about a year later, Shadows of Self shows us much more about how the Mistborn world and society are evolving as technology and magic mix, the economy grows, democracy contends with corruption, and religion increasingly becomes a cultural force, with four major faiths competing for believers.

This bustling, optimistic, but still-shaky society will now face its first test by terrorism and assassination, crimes intended to stir up labor strife and religious conflict. Wax, his eccentric sidekick, Wayne, and the young constable Marasi must unravel the conspiracy before civil discord can stop Scadrial's progress in its tracks.

At the heart of the story this time are one of the Mistborn series' most intriguing creations, the kandra, nonhuman creatures who can impersonate any animal or person they've digested. Some of them now work directly for the god Harmony, functioning very much like our angels. But one has gone mad and into rebellion against Harmony, and she is just as determined as Lucifer to have her own way, even at the cost of everything accomplished since the rebirth of Scadrial's civilization.

Shadows of Self will give fans of The Alloy of Law everything they've been hoping for and, this being a Brandon Sanderson book, more, much more.
Shadows of Self was published by Tor Books on October 6th. It is 383 pages, priced at $27.99 in hardcover and $14.99 for the digital edition. The cover is by Chris McGrath.
See all of our recent New Treasures here.