Goth Chick News: Pride, Prejudice, Zombies and Seth Grahame-Smith
Goth Chick News: Pride, Prejudice, Zombies and Seth Grahame-Smith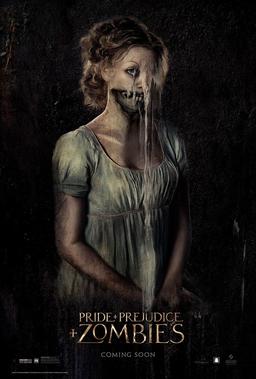 As you probably know by now, the author-side of Seth Grahame-Smith is fond of taking classic tales and turning them into horror stories. And if you've ever read one of those stories you might be of the mind that he's a better screen writer / producer than he is an author.
Or at least I am.
Case in point: Abraham Lincoln: Vampire Hunter was one of those books I couldn't get my hands on fast enough back in 2010, having been previously gifted with a copy of SGS's book How to Survive a Horror Movie (which to this day never fails to make me chuckle). But in spite of the fact it debuted at number four on the NYT's Best Seller List, Abraham Lincoln: Vampire Hunter felt a little like SGS had conscripted a public-domained biography of Abraham Lincoln and stuck in some paragraphs here and there about vampires.
No – it actually felt a lot like that.
Which is primarily why I never backtracked and read SGS's previous foray into this reworked genre, Pride and Prejudice and Zombies.
Published in 2009, the idea for the novel came from SGS's editor at Quirk Books. Using Jane Austen's classic novel Pride and Prejudice as a platform, it was suggested that SGS mix a zombie plot into the novel; which is precisely what he did, comparing the entire creative process to doing "microsurgery" on Austen's original text.
Though Quirk had some initial trepidation that Austen fans would rise up in revolt, Pride and Prejudice and Zombies debuted in the number three spot and since that time, the novel has sold over a million copies and been translated into over 20 languages.
So, having clearly been in the minority on my opinion of the source material, and as the idea was indeed highly original, I queued up in June, 2012 to check out the film version of Abraham Lincoln: Vampire Hunter. With SGS penning the screenplay and Tim Burton producing, ironically it remains to this day one of my favorite rainy-Sunday-afternoon-go-to movies, one that I have now seen more times then I care to count.
The movie more fun than the book? Now there's a rare happening.
So it is with this in mind that I now present you with the trailer for the movie version of Pride and Prejudice and Zombies, which was released earlier this month.
Speaking strictly for the film version, the plot ties in the Black Plague with the rise of zombies, while also letting audiences know this movie focuses on the Bennett sisters – Elizabeth (Lily James), Lydia (Ellie Bamber), Mary (Millie Brady), Jane (Bella Heathcote), and Kitty (Suki Waterhouse) – several badass women who have been trained to brutally slay the undead.
As the accompanying studio tagline states, Pride and Prejudice and Zombies:
…begins with the tangled relationship between lovers from different social classes in 19th century England, and is complicated by a full on outbreak of zombies.
The trailer sure makes the film look like a lot of fun without taking itself too seriously, in the same way Abraham Lincoln: Vampire Hunter interwove vampires with US history.
Meanwhile, Seth Grahame-Smith continues his Hollywood juggernaut career by producing the rebooted Gremlins (2017) as well as writing a script for the sequel to Beetlejuice (2017). The remake Something Wicked This Way Comes is set to be his directorial debut, and is scheduled to begin filming later this year.
Screen Gems will release Pride and Prejudice and Zombies in theaters February 5th, 2016.
Did you see Abraham Lincoln: Vampire Hunter? What do you think of Pride and Prejudice and Zombies? Post a comment or drop a line to sue@blackgate.com.