Vintage Treasures: The Deep by John Crowley
Vintage Treasures: The Deep by John Crowley
I bounced off John Crowley when I first tried him. It was 1977, I was thirteen years old, and the Science Fiction Book Club had just shipped me his second novel, Beasts, because I forgot to return their stupid monthly request form. The cover featured a lion-man in a broken cage, and I figured, eh, what the hell. I got about five pages in before I gave up, and re-read Robert Silverberg's Collision Course instead (that book rocks).
That probably would have been it for me and John Crowley, if it hadn't been for his fourth novel, the landmark Little, Big, which won the World Fantasy Award in 1982, and was nominated for every major award the genre had to offer. It wasn't long before my friends were talking about it excitedly, and I was forced to re-examine John Crowley. (Mark Rigney did a brilliant analysis of Little, Big for us here, if you somehow missed it.)
It was Bantam Spectra who got me re-interested in his early novels, though.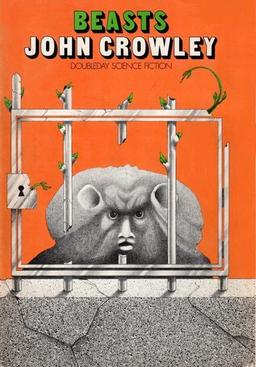 [Click any of the images for bigger versions.]
After the success of the paperback edition of Little, Big (released October 1983), Bantam re-issued his three prior books, one every month, starting with Beasts (November 1983), and then Engine Summer (December 1983), and The Deep (January 1984), all with marvelous covers by Yvonne Gilbert.
The Deep, Crowley's first published novel, retells the tale of the English Civil War, but in a very unusual setting that looks a lot like fantasy, but ultimately is revealed as something very different.
After quite a bit of searching, I finally completed my collection of the Bantam editions by getting a copy of The Deep this week. They make a handsome four-book set on my shelves. I still have the Science Fiction Book Club edition of Beasts, but I haven't opened that one in almost 40 years.
The Deep was published in hardcover by Doubleday in April 1975, and reprinted in January 1984 by Bantam Spectra. The Bantam edition is 176 pages, priced at $2.50, with a cover by Yvonne Gilbert.
See all of our recent Vintage Treasures here.