Last Chance to Win a Copy of Gestapo Mars by Victor Gischler
Last Chance to Win a Copy of Gestapo Mars by Victor Gischler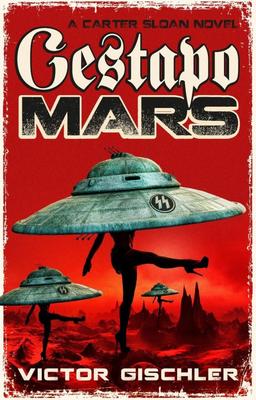 Last week, we told you that you had a chance to win one of three copies of Victor Gischler's brand new novel of interstellar Nazi mayhem, Gestapo Mars, on sale this week from Titan Books.
How do you enter? Just send an e-mail to john@blackgate.com with the subject "Gestapo Mars" and a one-sentence review of your favorite Nazi science fiction story (bonus points if it includes Gestapo!) That's it; that's all that stands between you and a copy of one of the most gonzo SF novels of the year. Three winners will be drawn at random from all qualifying entries and we'll announce the winners here on the Black Gate blog on Sept 29. What could possibly be easier? But time is running out — the contest closes Monday. Here's the book blurb:
Carter Sloan is a trained assassin — the best there is, pulled out of cryogenic sleep whenever an assignment demands his skills. So when he's kept in the deep freeze for 258 years, he's seriously pissed off.

Yet his government needs him, to hunt down the enemy known as the Daughter of the Brass Dragon. The future of the galaxy-spanning Reich depends on it, so Sloan is off — screwing, swearing, and shooting his way across interstellar space.

It's action, adventure, and disgusting gelatinous aliens as only Victor Gischler can create them.
No purchase necessary. Must be 12 or older. Decisions of the judges (capricious as they may be) are final. Not valid where prohibited by law. Eat your vegetables. Gestapo Mars will be published by Titan Books on September 22, 2015. It is 277 pages, priced at $14.95 in trade paperback and $7.99 for the digital version.