Check Out the Table of Contents for The Best American Science Fiction and Fantasy 2015, edited by John Joseph Adams and Joe Hill
Check Out the Table of Contents for The Best American Science Fiction and Fantasy 2015, edited by John Joseph Adams and Joe Hill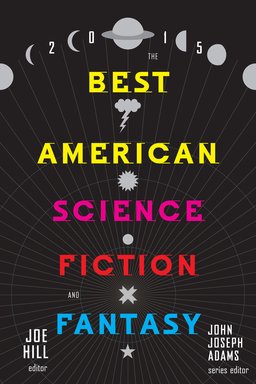 As anyone who's paid attention to our regular magazine coverage or glanced at our bi-weekly Fantasy Magazine Rack could tell you, there's far too much new fiction published each month for one person to keep up (unless you're Rich Horton, of course).
Which is why our field has a long tradition of Best of the Year anthologies, created by a small fraternity of experienced editors who point us towards the most exciting and important fiction published each year — and the up-and-coming authors most worth our attention. And why I was so delighted when I discovered a brand new one launching this year: The Best American Science Fiction and Fantasy, with the 2015 volume edited by Joe Hill, and the extremely capable (and busy) John Joseph Adams serving as Series Editor.
According to JJA's website, the selection process began with him winnowing down the year's fiction into the top eighty stories, which were then sent (blind) to Joe Hill. Joe selected the ten best SF and ten best fantasy stories, and that became the TOC for the 2015 volume.
The complete 80-story long list is here, and here's the table of contents for The Best American Science Fiction and Fantasy 2015 — including stories from Sofia Samatar, Kelly Link, Nathan Ballingrud, Theodora Goss, Seanan McGuire, T.C. Boyle, and many others. The book goes on sale in two weeks from Mariner Books.
Fantasy
"A Guide to the Fruits of Hawai'i" by Alaya Dawn Johnson (F&SF, July/August 2014)
"Cimmeria, from the Journal of Imaginary Anthropology" by Theodora Goss (Lightspeed)
"Help Me Follow My Sister into the Land of the Dead" by Carmen Maria Machado (HELP FUND MY ROBOT ARMY!!! and Other Improbable Crowdfunding Projects)
"How the Marquis Got His Coat Back" by Neil Gaiman (Rogues)
"I Can See Right Through You" by Kelly Link (McSweeney's)
"Ogres of East Africa" by Sofia Samatar (Long Hidden)
"Skullpocket" by Nathan Ballingrud (Nightmare Carnival)
"The Bad Graft" by Karen Russell (The New Yorker)
"The One They Took Before" by Kelly Sandoval (Shimmer)
"The Thing About Shapes To Come" by Adam-Troy Castro (Lightspeed)
Science Fiction
"The Blue Afternoon That Lasted Forever" by Daniel H. Wilson (Carbide Tipped Pens)
"Each to Each" by Seanan McGuire (Lightspeed, Women Destroy Science Fiction!)
"How to Get Back to the Forest" by Sofia Samatar (Lightspeed)
"Sleeper" by Jo Walton (Tor.com)
"The Empties" by Jess Row (The New Yorker)
"The Relive Box" by T.C. Boyle (The New Yorker)
"Tortoiseshell Cats are Not Refundable" by Cat Rambo (Clarkesworld)
"We Are the Cloud" by Sam J. Miller (Lightspeed)
"Windows" by Susan Palwick (Asimov's Science Fiction)
"How to Become a Robot in 12 Easy Steps" by A. Merc Rustad (Scigentasy)
See all the details at JJA's website here.
Earlier this year, we surveyed all 17 Best of the Year volumes being published in 2015, in a two-part series:
Get Ready For 11 Best-of-the-Year Volumes
Get Ready For Six More Best-of-the-Year Volumes
The Best American Science Fiction and Fantasy 2015 will be published by Mariner Books on October 6, 2015. It is 320 pages, priced at $14.95 for both the print and digital editions.
See all of or coverage of the best in upcoming fantasy here.