Beneath Ceaseless Skies 182 Now Available
Beneath Ceaseless Skies 182 Now Available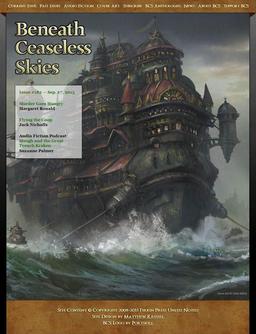 Beneath Ceaseless Skies #182 has new stories by Margaret Ronald and Jack Nicholls, a podcast by Suzanne Palmer, and a reprint by Wendy N. Wagner.
"Murder Goes Hungry" by Margaret Ronald
"It's not—" I sighed as we reached the doors of the veterans' wing. "It was a cruel thing for him to do. She has her vows, and too many of us veterans are too scarred to be any sort of decent companion."

"Flying the Coop" by Jack Nicholls
They were in sight of the churchyard gates when the witch's hut hopped out from between two buildings, thirty paces behind them.

Audio Fiction Podcast: "Moogh and the Great Trench Kraken" by Suzanne Palmer
It was more water than ever should be in one place, something so vast he scarcely could find the words. "Oh," he said. "This is a very large river indeed."

From the Archives: "Cold Iron and Green Vines" by Wendy N. Wagner (from BCS #69, May 19, 2011)
Most people didn't bother replacing teeth; they all went wicker-and-cogwork as young as they could.
Issue 182 was published on September 17, 2015. Read it online completely free here.
Beneath Ceaseless Skies is edited by Scott H. Andrews and published twice a month by Firkin Press. Issues are available completely free online; you can also get a free e-mail or RSS subscription.
Firkin Press also sells a Kindle/e-Reader subscription, which includes automatic delivery to your Kindle or other device. A 12-month subscription comes with 26 issues and costs only $13.99. Single issues are available on Kindle and at Weightless Books for 99 cents. Subscribe here.
The magazine supports itself though subscriptions, and also by selling anthologies, including the annual Best of BCS volumes and occasional themed books such as the steampunk anthology Ceaseless West. The anthologies each contain 15-18 stories and cost only $2.99-$3.99.
The cover art this issue is "Kodran Migrant Fleet" by Tyler Edlin. We last covered Beneath Ceaseless Skies with issue 181.
Our mid-September Fantasy Magazine Rack is here. See all of our recent fantasy magazine coverage here.