July/August Magazine of Fantasy & Science Fiction now on Sale
July/August Magazine of Fantasy & Science Fiction now on Sale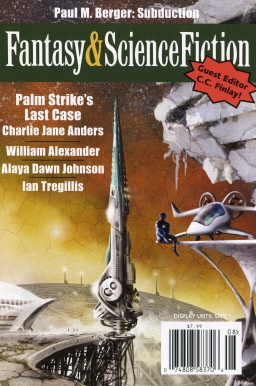 Holy cats! C.C. (Charles) Finlay is the guest editor of the July/August issue of F&SF.
How did this happen? Did Charles win some kind of contest? Did he travel back in time and convince regular editor Gordon van Gelder that the previously-planned July/August issue would lead to an apocalyptic future timeline? Was he selected in a process of elimination from a group of a dozen contestants in a grueling and deadly contest of wills?
Nah. Gordon asked him to do it, and Charles said, "Sure."
Here's how Charles says it went down on his blog:
About 13 years ago, I made my first short story sale… it was to Fantasy and Science Fiction – the magazine that published writers I grew up with, like Ray Bradbury, Ursula K. Le Guin, and Stephen King. That was a rush. Nothing since – not award nominations, not other short story sales, not book sales – has been quite as exciting as that first sale.

Until now.

I've wanted to try editing for a while. Maybe it's all the workshopping I've done, the excitement of seeing a great story for the first time before anyone else gets to read it. Maybe it's the time I've spent as resident editor at the Online Writing Workshops… So when F&SF publisher Gordon Van Gelder asked me if I was interested in guest editing an issue of his magazine, I immediately said "Yes."

Actually, I think I said "HELL YES."
Charles has a history with Black Gate magazine — we published his story "The Nursemaid's Suitor" in Black Gate 8 (back when he was Charles Coleman Finlay), and I think we've published him in our Letters Column once or twice. The man pays attention to fantasy magazines, and I'm very curious to see what he's discovered at the helm of F&SF.
Charles has gone well outside F&SF's usual group of regulars to fill the issue, and I think that's a good thing. Here's C.D. Lewis from his Tangent Online review:
This issue of Fantasy & Science Fiction presents thirteen original stories from authors Fantasy & Science Fiction has never previously published. That's not to say the authors are all new to print, or that you won't recognize some names from their awards, but they've never previously been in F&SF. The stories range from comedy to horror, the subjects range from superhero tales to normals escaping by the skin of their teeth, and the settings range from the age of sail through the current time to laboratories orbiting distant worlds. This issue's got something for everyone.
And here's the complete Table of Contents:
NOVELETS
"Palm Strike's Last Case"  –  Charlie Jane Anders
"Subduction"  –  Paul M. Berger
"The Traveling Salesman Solution"  –  David Erik Nelson
"The Day of the Nuptial Flight" –  Sarina Dorie
"The Aerophone"  –  Dinesh Rao
 "A Guide to the Fruits of Hawai'i"  –  Alaya Dawn Johnson
SHORT STORIES
"Seven Things Cadet Blanchard Learned From the Trade Summit Incident"  –  Annalee Flower Horne
"End of the World Community College"  –  Sandra McDonald
"The Girls Who Go Below"  –  Cat Hellisen
"Testimony of Samuel Frobisher Regarding Events Upon His Majesty's Ship Confidence, 14-22 June, 1818, With Diagrams"  –  Ian Tregillis
"Five Tales of the Aqueduct"  –  Spencer German Ellsworth
"Belly"  –  Haddayr Copley-Woods
"The Only Known Law"  –  William Alexander
Departments this issue include book reviews by Charles de Lint and Chris Moriarty, film reviews from Kathu Maio, cartoons by Danny Shanahan, Arthur Masear, and J.P. Rini, Coming Attractions, and a Curiosities entry by Paul Di Filippo. The cover is by Maurizio Manzieri for  "Palm Strike's Last Case."
So far the issue has been well reviewed, and Charles revealed on his blog that he has been asked to edit two more issues of F&SF in 2015.
The Magazine of Fantasy and Science Fiction is published by Gordon van Gelder. The cover price is $7.99 for a thick 258 pages. Check out the complete TOC and additional free content at the F&SF website.
We last covered F&SF here with the May/June issue.