A New Literary Fantasy Magazine: A Review of Lackington's #1
A New Literary Fantasy Magazine: A Review of Lackington's #1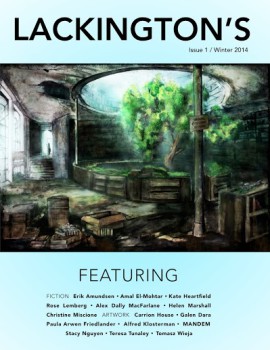 I live in Ottawa, Canada and despite being up to my eyeballs in the sci-fi and fantasy and geek scenes, I'm still caught flat-footed by the talent this city seems to pack in the woodwork.
I've blogged previously about our science fiction publisher Bundoran Press, our indie comic publisher Mirror Comics, and a couple of our writers like Geoff Gander, module-writer extraordinaire, and novelist Robin Riopelle.
This week, I was surprised by editor Ranylt Richildis, who, apparently not content with co-editing an amazing dark fantasy and horror anthology series called Post-Scripts to Darkness, decided to launch a new online magazine.
Richildis details Lackington's very clear editorial vision in the foreword to the debut issue, where she quickly establishes how important storytelling rules are before eviscerating that concept and planting her flag on the goal that Lackington's provides something different to the world. The territory she's staking out is overtly literary, poetry in prose.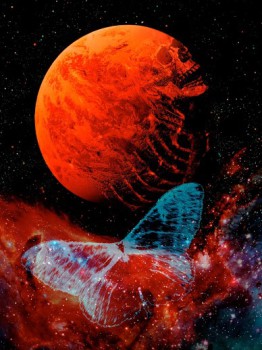 Kate Heartfield opens Lackington's first issue in a forgotten boneyard in "Their Dead So Near." Heartfield's imagery is powerful and the themes a bit disturbing, compounded by a slight meta-fictional worry on my part that the work might actually be based in part on a true story.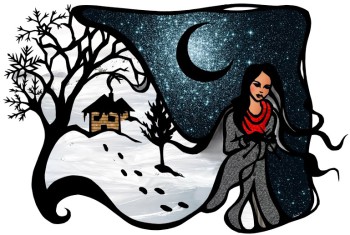 Nebula-nominated Amal El-Mohtar follows with "Mon Pays C'est L'Hiver," a beautiful piece of prose poetry. "An Orange Tree Framed Your Body" by Alex Dally MacFarlane is less consciously poetic in its voice and draws its power from the symbolism of name and imagery in a suspense story of terrorists in a faux-Europe.
Erik Amundsen offers the science fiction story "On Every Boy's Skin (All the Stars Ever, Also Bones)," which felt Bradburian in its introspective observation at a far away listening post.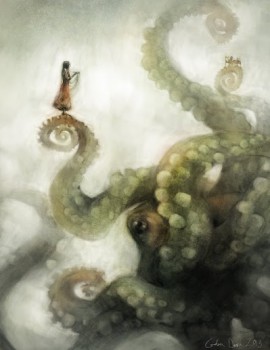 These stories were all good and then "Death and the Girl from Pi Delta Zeta" by British Fantasy Award winner Helen Marshall blew the barn doors off. Imagine if you will, a sorority-fraternity setting, in pitch-perfect voice, telling the love story of Carissa and Death… whose real name happens to be David. Marshall's created world charms with passages like:
He brings her flowers first. These flowers are not ironic. They are not lilies. They are not roses with petals dyed to black velvet. They are not grave myrtle, cut-finger, vervain, deadnettle or sorcerer's violets. They are not death camus or flower-of-death. Death hates irony.
And "A City of Its Tentacles" by Rose Lemberg was artful and brilliant. The voice and imagery are powerful and I knew this wasn't a regular story halfway through the first paragraph, when I read "…reminded [her] of baby rainworms decaying by the roadside in the spring."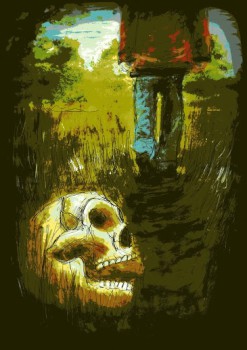 The amount of uncommonly evocative imagery reminded me of magical realism, or some of the most powerful passages from Helen Marshall's Hair Side, Flesh Side collection or Amal El-Mohtar's poetry from Honey Month. The fact that those latter two authors are also in the debut issue gives you a sense of the force of the editorial vision behind Lackington's.
I don't want to say much about "Tentacles" other than to say it is well worth savoring and rereading, and that the evocative style is not a simple artistic choice, but a thematic one whose purpose is revealed later in the story.
Lackington's has succeeded in offering something different and worthwhile to the world. I've already bought and downloaded the second issue (which has a story by Sofia Samatar, whose "Selkie Stories are for Losers" I've previously blogged about and was also nominated for the Nebula, the Hugo and the BSFA Award) and will be reading it this weekend.
I recommend it to anyone who enjoys literary fantasy and if you don't know if you do, this is a great place to try. The Marshall and Lemberg stories alone are worth the $2.99 cover price.
---
Derek Künsken writes science fiction, fantasy and horror in Gatineau, Québec. You can find out more about him at www.derekkunsken.com and @derekkunsken