Future Treasures: The Best American Science Fiction and Fantasy 2015, edited by John Joseph Adams and Joe Hill
Future Treasures: The Best American Science Fiction and Fantasy 2015, edited by John Joseph Adams and Joe Hill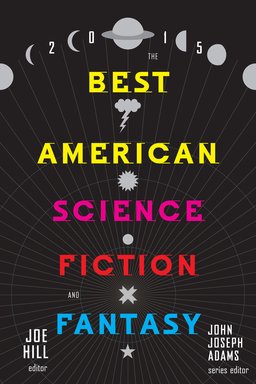 The Mariner Books Best American series is one of the more successful anthology series on the market. Their titles include Best American Short Stories, Best American Mystery Stories, Best American Essays, Best American Science and Nature Writing, and Best American Sports Writing.
This year for the first time they're adding an SF and fantasy volume, with John Joseph Adams as series editor. The editors are still selecting for the inaugural volume; the submission guidelines are here.
The Best American series is the premier annual showcase for the country's finest short fiction and nonfiction. Each volume's series editor selects notable works from hundreds of magazines, journals, and websites. A special guest editor — a leading writer in the field — then chooses the best twenty or so pieces to publish. This unique system has made the Best American series the most respected — and most popular — of its kind.

Now, with Best American Science Fiction & Fantasy, series editor John Joseph Adams will curate a new anthology series that will demonstrate what science fiction and fantasy literature is capable of — that will demonstrate that science fiction and fantasy is more than just retreads of Star Trek and Star Wars, that it is the genre of Flowers for Algernon and Fahrenheit 451, of The Man in the High Castle, The Book of the New Sun, and A Canticle for Leibowitz, that it is the genre of Wild Seed and The Left Hand of Darkness, and of Little, Big and The Sparrow and Dhalgren.

Fans of the genres know that the finest science fiction and fantasy is on par with the finest works of literature in any genre, and the goal of this anthology series is to prove it. The 2015 volume will collect the best material published in 2014, selected by series editor John Joseph Adams and guest editor Joe Hill.
The Best American Science Fiction and Fantasy 2015 will be published by Mariner Books on October 6, 2015. It is 320 pages, priced at $14.95 for both the print and digital editions.