The Top 50 Black Gate Posts in August
The Top 50 Black Gate Posts in August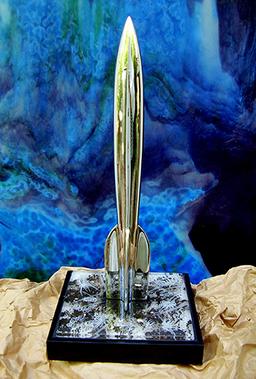 If there was a predominate topic last month at Black Gate, it was unquestionably the Hugo Awards.
Black Gate was nominated for a Hugo Award for the first time this year — an honor we declined on April 19. The Awards were presented at the World Science Fiction Convention on August 22, and our coverage of the awards and its immediate aftermath, written by me and Jay Maynard, produced the top three BG articles in August. In fact, those three posts were read more than the next 30 articles on the list combined.
The most popular non-Hugo article this month was Elizabeth Cady's look at Aristophanes' The Birds, "Ancient Worlds: The First Fantasy World." Next was our report on a controversial analysis of NPR's Top 100 Books list, "New Statesmen on the "Shockingly Offensive" 100 Best Fantasy and SF Novels."
Sixth was David B. Coe's second essay on the 2015 Hugo Kerfuffle, "Enough, Part II," followed by the 8th entry in our very popular Discovering Robert E. Howard series, "Jeffrey Shanks on The Worldbuilding of REH." Coming in at number 8, and sticking with the Robert E. Howard theme, was Bob Byrne's "The Public Life of Sherlock Holmes: Ramblings on REH."
Number 9 last month was M. Harold Page on "Chivalry: Not Really About Opening Doors (and Still Quite a Useful Coping Strategy)." And rounding out the Top 10 was another in our Discovering Robert E. Howard series, Don Herron's "Pigeons From Hell From Lovecraft."
The complete list of Top Articles for August follows. Below that, I've also broken out the most popular blog categories for the month.
The Top 50 Black Gate posts in August were:
The top categories last month were:
The Top 5o Black Gate blog posts in July are here, and you can see all 135 posts we made in the month of August here.