Clarkesworld 108 Now on Sale
Clarkesworld 108 Now on Sale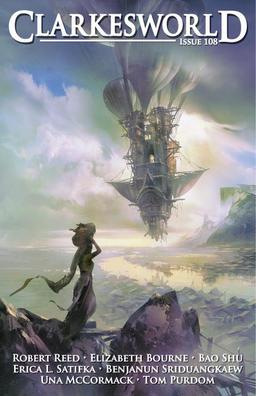 Neil Clarke's editorial in the latest issue of Clarkesworld is entitled "The Sad Truth About Short Fiction Reviews."
The sad truth about short fiction reviews is that the overwhelming majority of them have little-to-no impact on readership. After monitoring the incoming traffic for the online version of this magazine for nine years, I can say that the typical review has a statistically insignificant impact on the readership of a story or issue. The only notable exception to this has been reviews on high traffic sites, like io9 or Tor.com, that focus specifically on a single story. As the number of stories in a review increases, there's a dramatic drop-off in story readership… Shouldn't reviews of good stories have the effect of encouraging people to read the story?
In a discussion on his editorial here at Black Gate, Neil elaborated on his thoughts:
A review that doesn't send new readers is functionally equivalent to emailing your thoughts to the author. Nothing wrong with that, but there are reviews that send the author a message and readers to the story. I'm saying that the we should all aspire to the former and that most reviewers aren't. That's the sad truth I was referring to in the title.
Issue #108 of Clarkesworld has seven stories — five new, and two reprints — from Robert Reed, Erica L. Satifka, Bao Shu, Elizabeth Bourne, Benjanun Sriduangkaew, Tom Purdom, and Una McCormack.
Short stories featured this issue are:
"Cremulator" by Robert Reed
"Loving Grace" by Erica L. Satifka
"Preserve Her Memory" by Bao Shu
"The Algebra of Events" by Elizabeth Bourne
"The Occidental Bride" by Benjanun Sriduangkaew
"Canary Land" by Tom Purdom (from Asimov's Science Fiction, January, 1997)
"Sea Change" by Una McCormack (from Foundation, #100, Summer 2007)
And the non-fiction:
"The Next Generation of DNA Sequencing" by Dan Koboldt
"Traitors and Tough Decisions: A Conversation with Seth Dickinson" by Chris Urie
"Another Word: On Sunshine and Shadows" by Jason Heller
"Editor's Desk: The Sad Truth About Short Fiction Reviews" by Neil Clarke
We last covered Clarkesworld with Issue 107.
Clarkesworld is edited by Neil Clarke and Sean Wallace, and published by Wyrm Publishing. The contents are available for free online; individual issues can be purchased for $3.99, and monthly subscriptions are $2.99/month. A 6-month sub is $17.94, and the annual price is $35.88. Learn more and order individual issues at the magazine's website.
This issue's cover, "New World Coming," is by J. Otto Szatmari.
See the complete issue here.
Our September Fantasy Magazine Rack is here. See all of our recent fantasy magazine coverage here.