Future Treasures: The Testament of Tall Eagle by John R. Fultz
Future Treasures: The Testament of Tall Eagle by John R. Fultz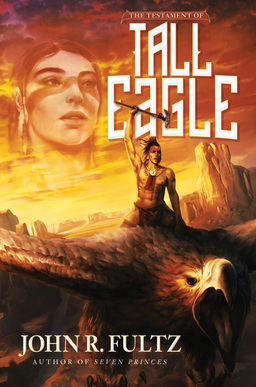 John R. Fultz's first story for Black Gate was "Oblivion is the Sweetest Wine" (BG 12), a full-throttle sword-and-sorcery adventure of spider-haunted towers and a fearless thief who comes face-to-face with a terrifying secret. We published three more tales in his popular Zang Cycle: "Return of the Quill" (BG 13), "The Vintages of Dream" (BG 15), and "When the Glimmer Faire Came to the City of the Lonely Eye."
John is much more well known these days for his breakout Books of the Shaper trilogy. Explorations called the first volume "flawless – and timeless – epic fantasy. For fans of epic fantasy, Seven Princes is as good as it gets." For his fourth novel, John moves in a totally new direction, with a tribal fantasy set in a beautiful and savage land.
A young warrior's vision-quest unveils an alien city full of magic and mystery. As a tribal rift threatens to destroy Tall Eagle's people, night-crawling devils stalk and devour them, so he seeks the wisdom of the high-flying Myktu. These fantastic beings offer him hope, a chance for rebirth and prosperity, as two separate realities converge. Yet first Tall Eagle must find White Fawn – the girl he was born to love – and steal her back from the camp of his savage enemies. His best friend has become his deadliest rival, and now he must outwit an invading army of conquerors to lead his people into the Land Beyond the Sun.

The Testament of Tall Eagle is the epic saga of The People, as told in the words of their greatest hero.
John's short fiction has appeared in Shattered Shields, Year's Best Weird Fiction, Volume One, The Way of the Wizard, and other fine places. His recent articles for Black Gate include a look at Darrell Schweitzer's upcoming Cthulhu Mythos anthology That Is Not Dead, an interview with GnomeSaga author Kenny Soward, and a peek behind the scenes at his first collection, The Revelations of Zang.
The Testament of Tall Eagle will be released by Ragnarok Publications this June. The cover is by Alex Raspad.