Future Treasures: Shattered Shields, edited by Jennifer Brozek and Bryan Thomas Schmidt
Future Treasures: Shattered Shields, edited by Jennifer Brozek and Bryan Thomas Schmidt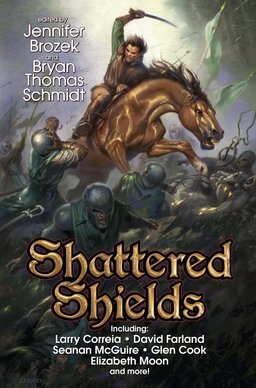 Well, here's a fun thing: an upcoming anthology packed with tales of epic battles and soldiers struggling against overwhelming odds, with a stellar cast of contributors.
Shattered Shields is edited Jennifer Brozek and Bryan Thomas Schmidt, and will be available in November. Jennifer — who got her start as an RPG reviewer in Black Gate magazine back in 2002 — has previously edited no less than ten anthologies, including Space Tramps and Human for a Day. Her co-editor Bryan Thomas Schmidt has also edited Space Battles and Beyond The Sun, among others.
The book includes a brand new Black Company story from Glen Cook, a Paksenarrion tale from Elizabeth Moon, a Runelords story by David Farland, a tale of October Daye from Seanan McGuire — and a story set in the World of Zang by our very own John R. Fultz. Here's John on his story:
"Yael of the Strings" is my contribution…  Most of the Zang Cycle stories were collected this year in The Revelations of Zang, but this is a brand-new excursion into that world. The protagonist isn't a soldier at all, but a minstrel whose fencing skills become his only chance at survival when the red tide of battle overwhelms. "Strings" revisits the nation of Ghoth with its behemoth spiders (from "Oblivion Is the Sweetest Wine"), and introduces Sharoc, Land of the Griffon.
Readers who remember John's terrific sword and sorcery tale, "Oblivion Is the Sweetest Wine" (from Black Gate 12) will surely want this one. Other contributors include Cat Rambo, Robin Wayne Bailey, Dave Gross, James L. Sutter, and many others.
Here's the book description.
Swords and Shields. Faith and Magic.

Grab yours and get ready, for the enemy is on the move.

High fantasy and mighty conflicts go hand-in-hand. In great wars, armies rise to fight evil hordes and heroes struggle to push beyond their imperfections and save the day. These stories include more than just epic landscapes and characters… but also epic battles.

Imagine a doctor struggling to identify the spy who has infiltrated his company's ranks and poisoned his colleagues or a boy suspected of murder by a king yet protected by a princess as he helps her father against his own people. Imagine a butcher discovering that he's called to lead an uprising, or a First Born knowing that she must betray her own in order to save humanity.

The possibilities are endless, but at the heart they have this in common: soldiers–ordinary and otherwise — struggling against extraordinary odds to survive the day. They must withstand dark magic, dodge enemy blades, and defy the odds to survive Shattered Shields.
And here's the complete Table of Contents:
"Ashes and Starlight" (Runelords) by David Farland
"The Fixed Stars" (October Daye) by Seanan McGuire
"The Keeper of Names" by Larry Correia
"The Smaller We Are" by John Helfers
"Invictus" by Annie Bellett
"Rising Above" by Sarah A. Hoyt
"A Cup of Wisdom" by Joseph Zieja
"Words of Power" by Wendy N. Wagner
"Lightweaver in Shadow" by Gray Rinehart
"Hoofsore and Weary" by Cat Rambo
"Vengeance" (Frost) by Robin Wayne Bailey
"Deadfall" by Nancy Fulda
"Yael of the Strings" by John R. Fultz
"The Gleaners" by Dave Gross
"Bonded Men" by James L. Sutter
"Bone Candy" (Black Company) by Glen Cook
"First Blood" (Paksenarrion) by Elizabeth Moon
Shattered Shields is edited by Jennifer Brozek and Bryan Thomas Schmidt, and will be published November 4, 2014 by Baen Books. It is 272 pages, priced at $15 in trade paperback and $8.99 for the digital edition. The cover is by Todd Lockwood. Get more details at the Baen website.
See all of our upcoming Future Treasures here.