Art of the Genre: Art of the Iconic Female #5: Princess Leia
Art of the Genre: Art of the Iconic Female #5: Princess Leia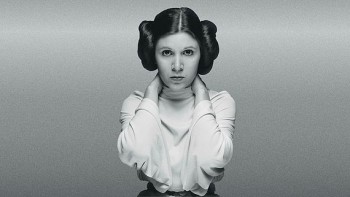 Today continues the Art of the Genre series on the Iconic Female.  If you've missed any of the others, click on the hotlinks to find #1, #2, #3, and #4, and now on to the good stuff!
I was six when Star Wars was initially released.  I did get to see it in the theater, but I more remember the feel of the venue and the oddity of the aliens rather than if I had an emotional attachment to Princess Leia.  I know I must have enjoyed the film because my house quickly filled up with Star Wars figures, posters, and memorabilia, but none of this led to a particular 'love' of Leia.  Honestly, the only true memory of Leia I had in those early days was that her very thin and small laser pistol was lost when I tried to put her in Luke's landspeeder.  To this day, I swear it is still ingeniously stuck inside that toy even though the odds are that it was devoured by my mother's two inch shag carpeting where the incident occurred.
Nonetheless, Leia didn't 'blossom' for me until the release of Empire Strikes Back, where, like Han Solo himself, I became smitten with her.  By this point, in 1980, I was a precocious nine year-old who was just beginning to truly understand that girls had more to offer than all my friends had previously surmised.  I well remember my Cloud City play-set, and the outstanding Han Solo figure with blue jacket that could stand proudly beside the intricately woven hair of Cloud City Leia.  I'm also pretty sure this was the first time I ever saw a kiss onscreen that didn't make me look away, so certainly some things were readily changing in my view of this iconic character.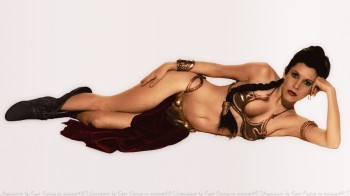 By the time of the release of Return of the Jedi in 1983 I was a full blown twelve-year old who was mixed up in the drama of junior high.  It was a time of girls in parachute pants and huge hair, so Leia's space style always seemed more charming than reality.  However, upon seeing the infamous and geek-orgasmic  Leia Slave Girl scene, my life was changed as much as any young man in the 1980s, and from there all bets were off about how we all define Leia.
Suddenly, Princess Leia Organa morphed from a beloved snarky, intelligent, tough female protagonist to an impossibly dreamy science fiction sex symbol.  No matter how many times she strangled Jabba with his own chain, she wasn't going to shake that golden bikini image from our minds.
In my opinion, for good of for bad, this one scene defined Leia more than any other.  After it, her induction into the ranks of The Iconic Female hall of fame is without a doubt first ballot material.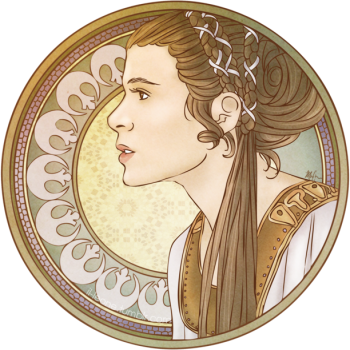 Artists around the globe have been rendering images of Leia for the next thirty years, be she white and virginal or slave-tastic, we are all hooked.  By this point, the only real drawback to this obsession is that Leia was played by an actual actress, Carrie Fisher, who is now the ripe old age of fifty-seven.  Couple standard human decline with extended drug use, mental illness, and general hard living, and you have a perfect cocktail for tail spinning a man's childhood love affair with her most famous character.
Honestly, Fisher can't catch a break with this one, and I feel for her.  Even in 1974, at eighteen, Carrie was told by George Lucas that to be given the role of Leia she needed to lose ten pounds (to which Fisher jokes that they wanted them all to come out of her cheeks) and word on the blogosphere today indicates that J.J. Abrams told her she needed to lose thirty pounds to be recast in Star Wars Episode VII.
Whatever the case, there is still a singular underlying vision of Leia that permeates geek culture today, and the art of her will continue to spill out in all its lovely curves well after the woman who made her famous is gone, be that both bitter and sweet.
There is no mistaking that Princess Leia is an Iconic Female who has entrenched herself in the imaginings of several generations of young men, and even though some dreams might get dented along the way, I'm very happy that she will once again reach the silver screen in Star Wars Episode VII.
If you like what you read in Art of the Genre, you can listen to me talk about publishing, and my current venture with great artists of the fantasy field, or even come say hello on Facebook here. And my current RPG Art Blog can be found here.