John Joseph Adams Interviews John R. Fultz
John Joseph Adams Interviews John R. Fultz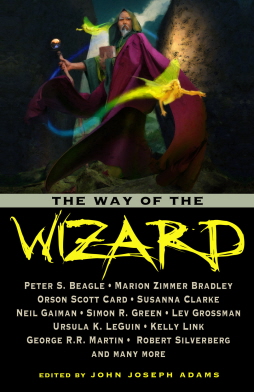 John Joseph Adams, editor of The Way of the Wizard anthology, has interviewed contributor — and Black Gate blogger and author — John R. Fultz in conjunction with the book launch:
In the cannon of classic fantasy, there are many examples of terrific wizardry, such as Fritz Leiber's Fafhrd and the Gray Mouser tales, where Ningauble of the Seven Eyes and Sheelba of the Eyeless Face are the heroes' patrons – mysterious inhuman wizards who watch over and protect Fafhrd and the Mouser, as well as giving them preposterous quests now and then. The tales of Clark Ashton Smith are rife with wizardry… Malygris of Susran, Namirrah of Zothique, and Evagh the Warlock, to name only a few. Nobody could build a rich, phantasmagoric world of dark wonders like Smith… Michael Moorcock's Elric of Melnibone is one of my favorite wizards as well… Who knew a wizard could be such a bad-ass with a sword?
The Way of the Wizard was released on November 16th; the book's website features seven "Free Reads," including  John Joseph Adams' introduction, stories from Adam-Troy Castro, Jeremiah Tolbert, David Barr Kirtley, and the complete  text of John R. Fultz's "The Thirteen Texts of Arthyria."
John R. Fultz blogs here regularly; he's also the author of "Oblivion Is the Sweetest Wine" (Black Gate 12), "Return of the Quill" (Black Gate 13), and the upcoming "The Vintages of Dream."
The complete interview is here.